Few extras except Jonathan Davis' skirt...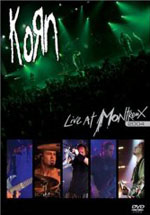 It's rare for the Montreux crowd to become a mosh pit, but it did on this occasion, with Korn supplying their surprisingly successful brand of high energy riff laden noise. One of the last performances of the original line-up too.

The set opens with the up tempo "Right Now", drummer David Silveria kicking things off. The crowd pick up too, and singer Jonathan Davis enjoying it. Is that a skirt I see him wearing?"Break Some Off" is more grungy with its fast/slow feel.
You're into the third song "Got The Life" before Silveria talks to the crowd, trying to get them clapping along. Many of the songs are greeted wildly by fans, as if a classic, and the band and music are both certainly high energy, but there's very little to be said for band/crowd interaction.

Fans will love this well recorded set, the passing rock fan will get a good view too, but with little in the way of extras you may feel short changed.

***
Review by Joe Geesin