KILLSMITH Sexual Savior Kachina Records (2008)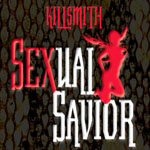 KillSmith is the alter-ego of Alice Cooper drummer Neal Smith. He thinks the present music scene needs shaking up and 'Sexual Savior' is the perfect antidote to the 'reality' TV shows that are tainting music. It's all somewhat intriguing, given that in his day job Smith is now a successful estate agent.
Smith has gone to extremes so the lyrical content is unsubtle and uncompromising. In short it's mainly a testosterone-fuelled grind, from start to finish. One could argue that Smith - at his age - should know better but he evidently wants to revisit his Alice Cooper-addled youth.
Musically, this isn't really like Alice Cooper and on a track like 'Disturbed' Smith sounds like a perverted Dave Mustaine, but without the thrash. 'How Do You Bleed' also has sub-Megadeth overtones.
'Beware Of The Dog' is particularly good, an acoustic motif develops into an infectious almost chant-like song with effective use of synth orchestration.
'Naked And The Raw' starts off with a squealing guitar and then rails against Hollywood excess, name-checking the girls who shared an imaginary (?) Rolls. No doubt all will be revealed in Smith's autobiography. Can't wait.
The CD cover warns of XXX nudity and explicit language but in truth the sixteen pages of 'hot female skin' look a little too clinical and wholesome to me - underlined by the judicious use of white undergarments.
It's an interesting concept, and not a bad album, and with some sleazy dancing girls could be infinitely more fun than an Alice Cooper reunion.
***½
Review by David Randall
Interview
---
| | |
| --- | --- |
| | Print this page in printer-friendly format |
| | Tell a friend about this page |