KILL HANNAH Until There's Nothing Left Of Us
Roadrunner (2008)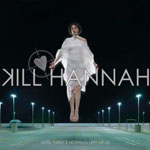 Kill Hannah are the latest in a series of US rock bands steeped in goth imagery (black clothes, pale faces, long dark hair - you know the score!) and often described as darkwave.
This album was originally released in the US back in 2006 but gets a European release with two added bonus songs, 'The Chase' and 'Nerve Gas' plus a few choice songs of their debut album including the rather good 'Kennedy'.
The band really do use a lot of synths/electronics in their sound with the guitars right down in the mix at times and in vocalist Mat Devine they have a very distinctive sound - very high pitched a la Muse.
'Believer' is a corker, waves of synths and melody that is almost siren like in sound. Depeche Mode for the new generation! 'Lips Like Morphine' (great song title, sums up the band's music and style to a tee) again has a catchy pop rock tune with lots of electronic backing. However the middle part of the album falls down with too many angst ridden ballads, although 'Kennedy' gets the band back on track.
Kill Hannah you can see have an instant appeal to female fans with their looks and imagery plus pop rock/electronic sound. They are like HIM less the guitar riffs. An album to cherry pick tunes from but either way you just know this band will get their time in the limelight.
***½
Review by Jason Ritchie
---
| | |
| --- | --- |
| | Print this page in printer-friendly format |
| | Tell a friend about this page |