Just witnessed your best live gig?..send us a review!
JOURNEY/John Parr
Manchester Apollo, 19 June 2008
Photos by Ian Pollard
An apparently full Manchester Apollo (in seated mode), settles down for the 3rd visit in as many years from the masters of AOR. Strange that they had a gap of over 20 years between visits before then, as there is clearly a persistent fan base willing to part with their hard earned cash on a regular basis to witness these events - despite the fact that they have seen a different vocalist on each recent visit.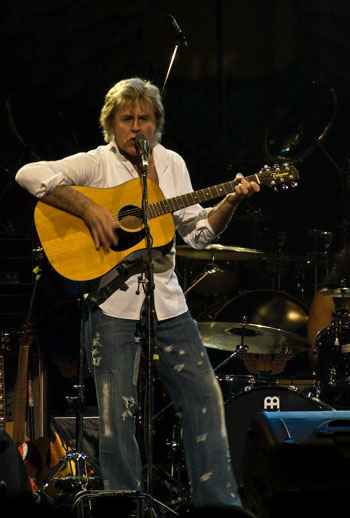 Opening up proceedings is John Parr, with his band, and he delivers an entertaining set, well received by the audience. Highlight of the set is the excellent "Under A Raging Moon", co-written by Parr with Geoff Downes for the Roger Daltry solo album of the same name, as a tribute to The Who's late drummer, Keith Moon.

The rest of his set is mostly unknown to me (the curse of the one hit wonder, though looking at JP's writing credits elsewhere this is hard to understand), before John jovially announces that he will finish with "a medley of his hit"!
He introduces "St. Elmo's Fire (Man In Motion)" with the history of it's inspiration - nothing to do with the film, but as a tribute to the efforts of wheelchair activist Rick Hansen. The song is performed well to an enthusiastic response, but sadly the keyboards are too low down in the mix to be heard properly.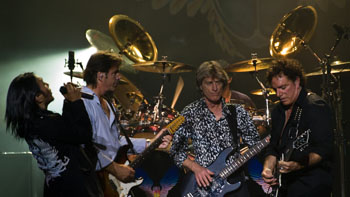 Why do they bother making rock gigs all-seated? The instant Journey take the stage, the first few rows are on their feet, and needless to say everyone else has to follow suit if they want to see anything. Just leave the seats out, knock £10 off the ticket price, get 50% more people in and everyone is happy!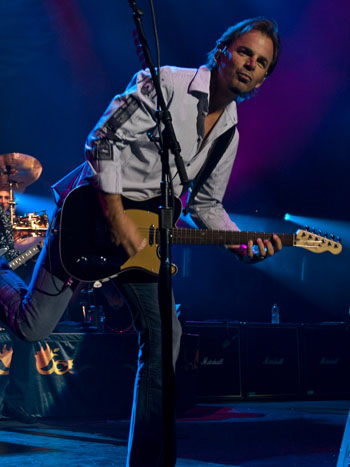 Enough of that; Journey arrive with new man Arnel Pineda at the helm, and a new album to support. Seems fitting that they open with a new song, "Never Walk Away". Ross Valory and Jonathan Cain (starting in rhythm guitar mode) team up on stage left, with Neal Schon to the right (as viewed from the audience). In the centre, appears this diminutive figure from the Phillipines, in only his 8th gig with the band. Arnel is not lacking in confidence though, and has boundless energy - not to mention the pitch perfect voice required for this job.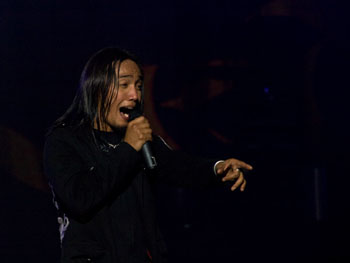 JC steps behind his shiny new black grand piano (looks like 'The Whale' has been moved into retirement), and taps away, on the cunningly disguised synth rack, the opening bars of "Separate Ways (Worlds Apart)", which of courses raises the crowd to a peak of excitement that never dwindles for the rest of the show. Any doubts anyone could have had about Arnel are dispelled with the first Perry era song, with his vocals way up in the mix, showing that the band have full confidence in him.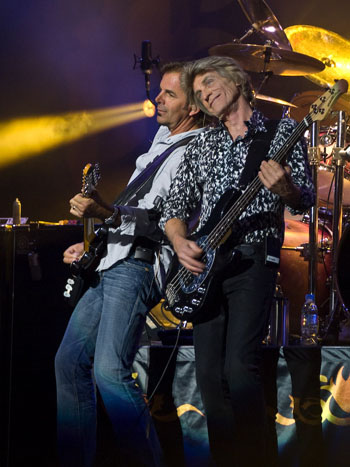 The set list is comprised mainly of songs from Escape, Frontiers and new album, Revelation. Not much ad-libbing or chat between songs means they can cram in as much as possible.
I'm sure that as Arnel gains confidence in the role, he will bring his own style to many of the songs, and the chat will increase. He has a very gruelling tour schedule between now and October, and I would expect shows at the end of the tour to be quite different. For now, he is happy to just sing the songs and jump around the stage with enthusiasm. The rest of the band look entirely comfortable with the set up, and interact well around him.

A couple of songs ("Keep On Runnin'" & "Mother, Father") see Deen Castronovo handle vocal duties, giving Arnel a chance to rest his vocal chords. These songs have become a highlight for me in recent years, as Deen has a fantastic, soulful voice - as well as being a superb drummer. There is no place in the set for "Be Good To Yourself" or "Lovin', Touchin' Squeezin'" this time round, but something had to make way for the new songs. Of those, "After All These Years" sounded the best, but could easily be called "Faithfully, part 2", as it follows a very similar form.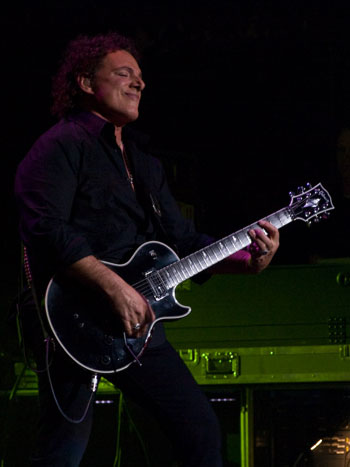 Neal Schon plays to perfection throughout the set, including some sublime solos and some excellent mandolin work - joined by Jonathan Cain on harmonica. I need to find what secret formula these guys are taking, as neither looks anything close to the 50+ years that they are. I guess the San Francisco bay area lifestyle is good for health!

All too soon it is time for the best song ever written, and the main set is closed with "Don't Stop Believin'". An encore of "Escape" and "Any You Want It" follows, and that's it. Hopefully they will continue the recent trend of regular trips across the pond, and be visiting Manchester again soon - although I can't help but be jealous of the US fans, who will get Journey, Heart, & Cheap Trick on the same bill later this summer.


SET LIST:

Never Walk Away
Seperate Ways
Only The Young
Stone In Love
Keep On Runnin'
Ask The Lonely
Who's Crying Now
Change For The Better
Lights
After All These Years
Mother, Father
Open Arms
Wheel In The Sky
Edge Of The Blade
Rubicon
The Journey
Faithfully
Dont Stop Believin'

Encore:

Escape
Any Way You Want It
---
Review
and photos by Ian Pollard
Photo gallery
Alternate view
---
| | |
| --- | --- |
| | Print this page in printer-friendly format |
| | Tell a friend about this page |