Formative years of blues to rock guitarist...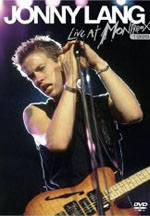 There's a killer song on Walter Trout's new 'The Outsider' album that carries the refrain, 'he's the next big thing, until the next big thing comes long'. And while those lyrics might not quite apply to Johnny Lang in the two years preceding this 1999 Montreux Festival appearance, it did seem at the time as if young Johnny was being hailed as the saviour of rock blues.
Indeed on the evidence of this performance, he is surrounded by a bunch of veterans - great players one and all - but all desperately lacking on stage presence, leaving Johnny somewhat isolated up front to do his thing.
Johnny's thing is to wring every last note from his guitar and strangle every last nuance and dying gasp of breath from each song. Such is his on stage demeanour that he cuts a distant cousin of Joe Cocker style figure, who's soulful rasp brings to life a handful of gems.
The fact that the best tracks, 'Still Rainin' and 'Lie To Me' turn out to top and tail the set, says much about the way this young guitar and vocal talent has been nurtured every step along the way of his ascending career.
In between these two highlights there is also what liner note writer Michael Heatley accurately identifies as a Stones influenced 'Right Back', and a passionate blues, 'A Quitter Never Wins' as well as some tough wah wah inflected guitar playing as Johnny explodes on 'The Levee'.
At barely 18 years old Johnny treats the Montreux crowd to his considerable soulful vocals and killer guitar chops, but with a set barely an hour long and one that includes his take of 'Good Morning Little School Girl', it's clear that while in 1999 he may have been the next young thing, but Johnny's was still a raw talent in the making.
****
Review by Pete Feenstra