JON OLIVA's PAIN Global Warning AFM Records (2008)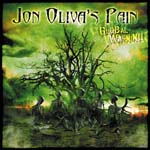 Jon Oliva is back with another varied and rewarding album, made all the more important for fans after earlier this year Jon Oliva announced there would no Savatage reunion now or in the future, so this is as near as fans will get. Some of the songs on here have stemmed from ideas from Chris Oliva and there is a bonus track on the European release of this album of a planned Savatage song 'No More Saturday Nights'.
It really is a musical menagerie from the big production pomp of 'Looking At The World' or 'Before I Hang', which hint at Jon Oliva's other band Trans-Siberian Orchestra. Then you get 'Adding The Cost' which is brutally heavy with a superb guitar solo midway through.
'Master' is another hard hitter with sampled vocals (sounds like BOC's 'Black Blade' mid section vocally to these old ears!)
'Firefly' slows things down slightly, although again the lyrics are hard hitting melded into almost 60's psychedelic in parts. 'The Ride' also allows the listener some respite and again has a slightly trippy feel to the guitar solos and backing.
The slow building epic strains of 'Someone/Souls' is a grandiose ending to stunning album. If this album doesn't make my year end best of I'd be surprised.
This is as close to Savatage as fans of that wonderful band will get and the good news is that Jon Oliva and his band mates not only live up to Savatage's high musical standards but add to them as well. Lots of musical variety, passionate vocals and some jaw dropping guitar solos - all in all a wonderful album.
****½
Review by Jason Ritchie

---
| | |
| --- | --- |
| | Print this page in printer-friendly format |
| | Tell a friend about this page |
***** Out of this world | **** Pretty damn fine |
*** OK, approach with caution unless you are a fan |
** Instant bargain bin fodder | * Ugly. Just ugly
get ready to rock is a division of hotdigitsnewmedia group