JOHNNY WINTER Live In America 1978
The Store For Music (2008)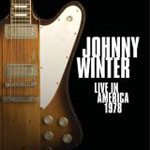 John Dawson Winter - surely on anyone's list of the top blues guitarists on the planet, and surely any newly released material is going to be up there, right? Wrong. This has all the feel of a formerly bootleg recording perhaps having been recently licensed - I can't believe that the man himself would be proud of what appears here.
Unfortunately, there are no recording details whatsoever, so it's difficult to know where it was recorded and, perhaps more importantly, who the backing band are. It sounds to me like a warm-up gig for a tour in a small venue with a pick-up band that don't know the material too well. The sound is not great either, with the vocals too low and the bass too high in the mix - and when the bits of harmonica came screeching out of the speakers, Jeez, I nearly wet myself.
Now - having said all that, you're now thinking there's nothing of merit here, right? Wrong. There are flashes of pure brilliance among the dross, and if the selling price is low enough, it may well be worth investing for these alone.
There are twelve tracks in total, of which five are worth investigation, all of which are slow or mid-paced blues, and the only tracks where Johnny's guitar manages to pierce the murk of the rhythm section. 'Should Have Quit Ya Baby', 'Stranger' and Dylan's 'Highway 61 Revisited' are pretty good, but the two outstanding tracks are 'She Moves Me Man' and the true highlight, 'Catfish Blues', which gives Rory Gallagher and Taste's Live At The Isle Of Wight version a good run for its money.
The rest is mere ballast, trending towards septic tank material - there are poor renditions of the 'Stones 'Jumping Jack Flash' and 'It's All Over Now', and who needs yet another version of 'Johnny B. Goode'? And as for 'E.Z. Rider' and 'Crawl', well, they should be first in the tank.
Overall, a big disappointment really, especially as we all know just how good Johnny can be...(sorry)
**
Review by Alan Jones
---
| | |
| --- | --- |
| | Print this page in printer-friendly format |
| | Tell a friend about this page |