Gangster of Love triumphs...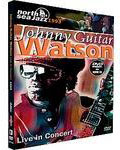 This Johnny 'Guitar' Watson 'Live in Concert' comes highly recommended if only for the fact that this extensively researched and packed CD/DVD goes beyond the usually concert footage and meaningless add dons. The elaborate packaging comes with an interesting booklet comprising Bill Dahl's liner notes, and some additional memorial notes from Makoto Ayukawa (albeit something went badly awry in the translation from Japanese to English) and a welcome discography.
As regards the actual DVD, there's a revealing radio interview that explores Johnny's influences and career moves, and some splendid early career footage with Johnny in his role as a pianist and later at the same gig as sideman guitarist for Bo Diddley.
Together with some additional concert footage and video clips this double pack manages to successfully present an interesting career sweep of an artist who reinvented himself long before David Bowie made it fashionable. If anything the chronology could have been better edited but that's a minor quibble in an otherwise excellent project.
As regards the main body of the concert at the North Sea Jazz festival in 1993, Johnny hams it up after a boxing style introduction by his keyboard player who almost croaks while building up the tension. After exploding on stage he works his band hard and thinks nothing of leaping into the crowd, leading them into a call and response sections and dancing energetically in the middle of his fans, seemingly oblivious to his then 58 years on the planet.
When he finally does strap on his trusty red Gibson he impresses with some dynamic notes, often letting the horn section cut a swathe before adding his telling runs. And of course Johnny is nothing if not a showman, teetering on the lip of the stage to lean into an extended guitar intro to 'Gangster of Love' and later teasing out the coolest of notes on the show stopping blues 'Three Hours past Midnight'.
And of course no 'Guitar' Watson show would be complete without a Guitar Slim style foray into the crowd with his Gibson. But for the most part it's Johnny funky groove that the crowd have come to see and with his crack band he doesn't disappoint, climaxing a high energy show with 'A Real Mother For Ya' and an untitled funky groove.
In short Johnny came, saw and conquered, giving the crowd exactly what they wanted and more. The lasting memory this double package leaves you with is the unflagging energy levels, the dazzling showmanship, the well drilled band, Johnny's own fiery chops and above all his sense of presence and OTT charisma. For those of us who saw him and for those that hopefully will buy this DVD it heightens the sense of loss.
****
Review by Pete Feenstra
Related>> DVD review