JOHN LEE HOOKER All Odds Against Me
Jazz Haus JHR 015 (2008)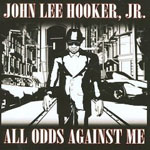 John Lee Hooker Jr. Has a lot to live up to. For aside from being the son of the late blues legend, he also has to live up to the PR hype of having 'Delta filled blood running through his Motown Blues'.
Being born in Detroit of helps of course but on the evidence of the suitably titled 'All Odds Are Against Me' his true blues style lies somewhere closer to the cabaret and jazz saloon previously inhabited by the late Lou Rawls than either the Delta roots of Hooker senior or Hooker Junior's own Detroit upbringing.
John Jr. also has alter ego as the crime fighting cartoon super hero character. This cute idea is neatly predicated on the sing along chorus of 'Blues Ain't Nothing but a Pimp', but like many of the self penned songs here the subject matter is very predictable if not clichéd.
And while John Jr. is an abrasive vocalist who at times sounds super confident with a rich baritone voice, he sometime struggles with his phrasing, as on the acoustic 'Old School'. The whole caboodle comes wrapped in the some sumptuous horn led arrangements which manage to cover the cracks.
That said, John Lee Jr. does have an interesting line of patter as evidenced on the opening narrative of the 'Dear John' letter. The blend of irony and humour is as original as it is engaging and his subsequent mix of capable muscular funk and horn led shuffles are easy on the ear.
Certainly the big band arrangement and Lou Rawls style baritone voice on 'I Miss You So' and the gentle funk of the Johnny Guitar Watson influenced 'Stressed Out' and 'There's A Struggle' is impressive enough. And on the latter John comes up with some better lyrical content working out the good versus bad, 'angels' versus 'devil' dichotomy.
But too often you get the feeling that there's an artist of potent potential who is been pushed just a shade too far, too early. On 'The People Want a Change' for example, there's a monumental big band intro before a huge horn arrangement leads us into a contrasting funky groove over which John Jr. expresses the need for political change.
Musically it's almost as if someone is trying to make his voice fit a pre-determined mould. As it is, John saves his best for last on the closing short jazzy blues of 'That Be The Blues' which comes coupled with Will Griffin's cool expressive piano and Frankie B. Bailey sultry muted trumpet.
You can imagine that Hooker Junior might go down well in France where their conception of the blues remains almost in aspic. And although well produced and slickly packaged 'All Odds Against Me' is old wine in new bottles and John Lee Hooker Jr. isn't quite the vintage bluesman yet.
***
Review by Pete Feenstra
---
© 2008 Jazz Haus Records.
---