JOHN LEE HOOKER The Healer/Mr Lucky SPV (2008)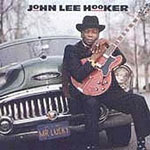 The Healer (SPV95992CD) is just as significant now as when it was released back in 1989. On a personal note I had a coffee with little known slide guitarist and rookie producer Roy Rogers some 6 months before this project took shape.
He spoke enthusiastically about working both with his friend and blues collaborator John Lee Hooker and further talked about his concept of showcasing John with an array of special guests.
At the time it seemed a nice idea and certainly a worthy one as John Lee Hooker was an all but forgotten figure, almost like the blues itself. *****
Barley a year or so later the album hit pay dirt and led not only to the equally impressive Mr Lucky (SPV49202CD) but became an industry template for any number of special guest albums that continue to be popular right up to this day.
And while the succession of stellar blues related artists do John Lee Hooker proud, the various successful pairings work up their magic on each other. The result is a brace of groundbreaking blues albums that sound just as good now as when they were originally released. Indeed it can be argued that 'The Healer' kick started the whole 90's blues resurgence as much as it boosted the criminally overlooked career of John Lee Hooker. It's hard to imagine that in the early 80's (even with Walter Trout in his band) Hooker and contemporaries like Albert Collins and the like were playing venues the size of your living room.
In fact Hooker was never actually so much forgotten as overlooked. Just like his old sparring partners Canned Heat with whom he recorded the excellent 1970 'Hooker 'n' Heat' album, they both desperately needed a shot of commercial success. And the combination of the two with Charlie Musselwhite's harp on the splendid 'Cuttin Out' provides ample evidence that they still had much to offer.
Look no further than the title track for a prime example of the rebirth of both Hooker and guest Carlos Santana as they push the blues envelope into new directions. Roy Rogers role as producer was crucial and it took real vision to combine Hooker with say Los Lobos on 'Think Twice Before You Go' Perhaps the highlights is the intuitive production on the stunning sensual duet of Hooker and Bonnie Raitt on 'I'm in the Mood'. Roy joins the fray on guitar on the laid back, low down version of 'That's Alright' with Charlie Musselwhite again offering some deep rooted blues on mesmerising harp. All in all this is a cracking album and a salutary reminder that it wasn't until producer Roger was unceremoniously ditched some years later that the magic to be found on these two albums suddenly disappeared.
By the time of 1992's 'Mr.Lucky' the cast list was even more high profile and in many respects left the Hooker and guests template with much to live up to. But again producer Rogers had the magical touch. John Lee seems almost exuberant on the opening 'I Want To Hug You' which finds him in tandem with the splendid Johnny Johnson on piano and he clearly enjoys himself with a trademark rap on the title track. This is followed by a magnificent pairing with the master of the Stratocaster Albert Collins on 'Backstabbers' and an equally successful soulful outing with Ry Cooder and his long time vocal partners Bobby King and Terry Evans.
Overall it's the fact that the coherence of the album triumphs over the individual guests that makes 'Mr Lucky' a worthy and hugely successful follow up to 'The Healer'.
'Mr. Lucky' is simply everything you could ever ask for from a blues compilation album and offers the bonus of some surprise highlights such as John Lee and Van Morrison on a spell binding 'I Cover the Waterfront'. There's even a contemporary take on the blues on the jazzy Santana led, 'Stripped Me Naked' showing that the blues can be gateway for all manner of explorations, in this case funk.
Johnny Winter also rolls back the years on 'Susie' on which Hooker's warm vocals act as the perfect foil for the piercing guitar lines and the end-piece with John Hammond 'Father Was A Jockey' is just sumptuous. *****
In many respects both of these albums are just so damn good almost in spite of the stellar cast as much as because of them. That said when it comes down to it, it's simply the fact that all the catalytic elements work so well that makes 'Mr. Lucky' such an essential record. To get a great performance from any 74 year old is an achievement, to do so it in the presence such a high profile cast is the mark of a great album.
Review by Pete Feenstra
---
| | |
| --- | --- |
| | Print this page in printer-friendly format |
| | Tell a friend about this page |