Just witnessed your best live gig?..send us a review!
JOE PERRY
Fox Theatre, Foxwoods Resort & Casino, Ledyard, CT.
8 February 2008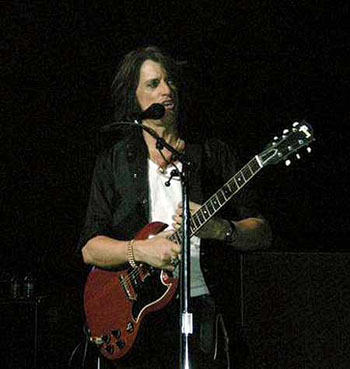 Aerosmith's Joe Perry is a rock guitar legend. However in New England he is also quite frankly, a favored son and true music icon. So when Perry recently performed a rare, solo show at Foxwoods Resort Casino in Connecticut, it was a greatly anticipated gig for hard­core Joe Perry fans throughout the northeast.
And what would make this night even more special was the fact that Perry was also playing with a back up band featuring his sons Adrian (bass,vocals) and Tony (guitar, vocals) along with drummer Ben Tileston of TAB The Band, a rock trio who just released their debut CD Pulling Out Just Enough To Win.
It was clear from the outset that the boys certainly are a chip off the ole' block, (or should I say The Stone) following their father's lead through a 90­minute set that featured a few Aerosmith gems that rarely (if ever) get unleashed live including 'Chip Away The Stone', 'Walkin' The Dog' and 'Bright Light Fright', one TAB track, as well as several cuts from The Joe Perry Project plus Joe's self­titled solo release from 2005.
From the opening strains of 'Roadrunner' (from Aerosmith's Honkin' On Bobo ) there was no mistaking that Joe and his boys were there to rip it up by churning out a raunchy blend of blues­rock riffs with an edgy, almost punk vibe. Of course Joe always did like the New York Dolls, the Pistols and the MC5.
After another Aerosmith gem 'Walkin' The Dog' featuring a gritty lead vocal from Adrian and then Joe's 'Hold On Me', the band ripped through the Joe Perry Project favorite 'South Station Blues', which the Perry crew turned into a low­tone boogie featuring a deep, bottom­end bass anchoring Joe and Tony's intertwining guitar grooves.
The aforementioned 'Chip Away The Stone' was a welcome surprise for the '70's Blue Army' members of the audience, before Tony really got in on the act with an absolutely smokin' guitar solo for 'Stop Messin' Around', although dad was not to be out done, finishing off the song by riffing off a solo behind his head.
Another 'ole' Joe favorite' followed with 'Bright Light Fright' from Aerosmith's Draw The Line album, to which Joe pronounced 'I wrote this about 30 years ago when the Sex Pistols were becoming the next big thingŠand I remember thinking 'shit, Aerosmith can do that' ,' before ripping into that classic, shot­gun rhythm intro.
From there Adrian took back the mic for the only TAB song of the night with 'Secretary's Day,' a fast­rocking number with a Rolling Stones­meets­Iggy Pop feel to it, which the crowd really enjoyed.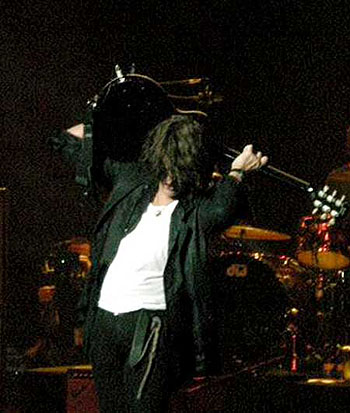 So much so in fact, that when I looked to buy the TAB CD after the show, they had all been bought up.
Joe would then take over again, this time pulling out his old stand­by tribute to Jimi Hendrix with 'Red House', the blues­drenched rocker that Perry always puts his heart and soul into including an amazing, distortion­filled solo that trailed well beyond songs' end.
'I just had to get that out of my system,' Joe stated in the aftermath of fuzz tone.
Other show highlights included the contemporary blues of 'Talk Talkin'', The Project/Aerosmith number 'Let The Music Do The Talking' and the obscure Aerosmith favorite ('who a lot of guitar players ask me to play') 'Combination' from the Rocks album, an intricate rocker which the foursome jammed into a blistering crescendo that was a more than worthy representation of the 70's album­cut classic.
The encore included a rough and tumble version of the Beatles 'Helter Skelter' complete with a possessed­like lead vocal from Adrian, before the band closed out with the hard rocking 'Shakin' My Cage' from Joe's last solo effort.
In the end this was truly a hard hitting event anchored by a rock legend who was clearly experiencing something fresh and new onstage, which is not an easy thing to say when you are Joe Perry of Aerosmith.
But this family affair was clearly a lot of fun for all, with the young gun­power trio more than holding their own alongside said legend.
Hopefully this will trigger more 'Perry Family' shows in the future, maybe they will bring master Roman up there for the next one.
****
Review by Joe Milliken
Photos by Michele Blackwelder
---
| | |
| --- | --- |
| | Print this page in printer-friendly format |
| | Tell a friend about this page |