JOE LYNN TURNER Live In Germany Frontiers (2008)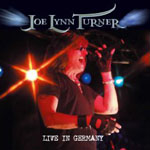 Unbelievably, 'Live In Germany' is the first live album of Joe Lynn Turner's solo career. It's definitely a treat for Rainbow enthusiasts. It was recorded at the United Forces Of Rock festival in Ludwigsburg, Germany on 1st October, 2007.
Truthfully, it's not a great live recording. The sound is good but you can hardly hear the audience and the drums are too pronounced. Despite that, Turner sounds great. His voice is full of energy and passion and you can tell he still loves singing Rainbow tunes. He's accompanied by guitarist Karl Cochran, bassist Greg Smith, drummer Michael Sorrentino and keyboardist Carmine Giglio. They're a good band, there's no question about that.
The album consists of 13 tracks, mostly Rainbow stuff with some outtakes from his latest solo album 'Second Hand Life.' There's even a cover of 'Burn,' the title-track from Purple's highly-underrated 1974 album that features David Coverdale on vocals. But I'm sure many fans of eighties melodic rock will be more interested in the likes of 'I Surrender,' 'Street Of Dreams,' 'Power,' 'Can't Let You Go' and 'Stone Cold.' There's also a good version of 'Power Of Live' from his 2005 solo album 'The Usual Suspects.'
Given the tight schedule that artists have to stick with at festivals, this album is a quick run through some of Turner's most memorable tracks. But I have to say it's a shame he chose this as his first live release. Its fun, but something more substantial would have been a better choice especially as he's credited on around 50 albums and sang for Rainbow, Deep Purple, TNT, Fandango and Yngwie J. Malmsteen, amongst others. If you're a serious Rainbow fan this is definitely worth buying but JLT followers may be slightly disappointed.
***
Review by Neil Daniels
www.neildaniels.com
---
| | |
| --- | --- |
| | Print this page in printer-friendly format |
| | Tell a friend about this page |