Just witnessed your best live gig?..send us a review!
JOE BONAMASSA
BBC Studio 3, Maida Vale, London, 7 February 2008
Joe Bonamassa live in session at the BBC, interviewed by Paul Jones and in a question and answer session with invited audience for Paul's BBC Radio 2 R&B Show.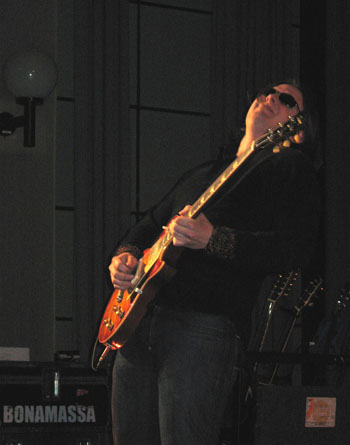 (photo: Anne Pioton)
It's a fair bet to assume that of all the rock and blues players that have entered studio 3 at BBC's Maida Vale, few could have delivered the kind of levels of volume and intensity that makes Joe Bonamassa just that little bit different from most of his peers.
Indeed more than that, as his mid gig interview with Paul Jones proved he is both as eloquent and learned about the music he plays as he is technically brilliant. Together with four amps (he uses two at any one time) and with the same line-up of Carmine Rojas bass, long time drummer Bogie Bowles, and Rick Mellick on keys that has recorded the current Billboard topping 'Sloe Gin' on Provogue records, Joe demonstrated the full repertoire of his staggering ability with a live performance that made a mockery of his studio surroundings.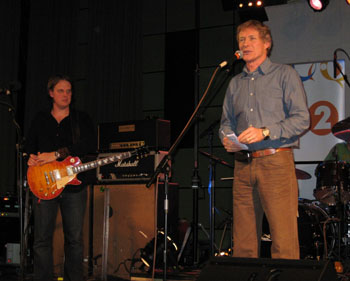 (photo: Anne Pioton)
Sure enough he launched into several passages of cascading notes delivered with awesome speed and a fulsome tone. He also employed a measured use of dynamics and brought to life passages of familiar songs with some clever use of sustain, differing levels of volume and the occasional but very impressive flurries of wah wah and echo reverb.
But the cornerstone of the set proved to be the more considered approach of the title track of the current 'Sloe Gin' album. Taken as a slow blues, Joe explained in a question and answer session with Paul Jones that the song came from Tim Curry ('Rocky Horror Show') but was offered to him by producer Kevin Shirley, who was also responsible for putting the band together. It is typical of Joe that he gives generous credit to one and all without so much as dwelling on his own input.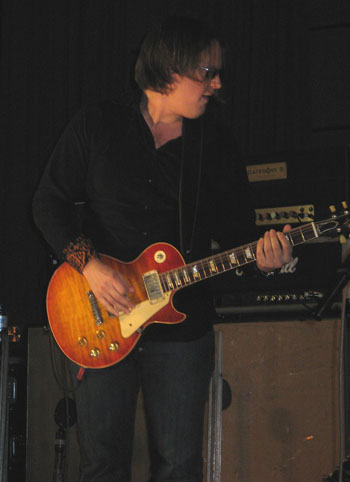 (photo: Anni Pioton)
As this live session thrillingly showed he is a major talent with an acute sense of the musical history underpinning his work. Both his stellar playing and inventive arrangements help him refashion the music of the British blues invasion, with due reference to such icons as Led Zeppelin, Ten Years After and Free and the occasional almost subliminal guitar line from the likes of Focus.
On top of that, wouldn't you know it he's a perfectionist and he duly undertook two takes of 'So Many Roads', the second of which came with added guitar flourishes, delicate tonal dynamics and an extended end piece.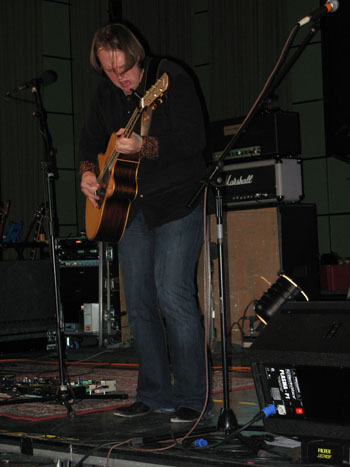 (photo: Gary Field)
The other second take of ZZ Top's 'Just Got Paid' neatly slipped into Zeppelin's 'Dazed & Confused' and wrought out every last inflection from the memorable powerhouse guitar line. Together with the opening riff driven 'Bridge To Better Days' and lovely slide work on Ten Years After's 'One of These Day's', Joe explored the crossover appeal of early 70's British blues rock as it transformed into Progressive Rock.
Above all, the combination of his craftsmanship and intuitive feel for the music lent the material a refreshing thrust that goes along way to explaining Joe's burgeoning popularity. In between the occasional change of guitar and full range of solo's, Joe found time for an acoustic outing with a mesmerising take of his own 'Woke Up Dreaming' and coolly slipped into the BB King shuffle 'You Upset Me Baby' with special musical guest and programme host Paul Jones on accomplished harp.
The guitar/harp cast their spell over the band and set up a lovely little cameo finale on guitar and harp. Asked by another audience member for general influences, Joe mentioned Tommy Bolan, Eric Johnson, Jeff Beck, Ry Cooder, and even Rod Stewart, but ultimately settled for Jimi Hendrix as his main man, for as he suggested, 'without him we wouldn't have the rock blues of today'.
And it's testament to both his good taste and voracity for seeking out new and challenging avenues, that Joe has turned such unlikely source material as 'Sloe Gin' into a classic of his own. His live version here was sublime and he cleverly segued from the opening verses into an almost mournful but powerful guitar break, and without the conduit of any studio trickery. He transformed the long instrumental outro into the kind of emotive guitar sweep that brought Snowy White commercial success with 'Bird of Paradise'.
If there's any justice and enough good taste out there Joe will surely be gracing FM rock stations around the globe. The tension of the song was beautifully resolved by the solo which was as fluent as it was confident and by turns truly inspirational. This after all is a major player on the contemporary blues rock scene and our radio airwaves will be all the better for his presence.
*****
Review by Pete Feenstra.
---
| | |
| --- | --- |
| | Print this page in printer-friendly format |
| | Tell a friend about this page |