JIMI JAMISON Crossroads Moment Frontiers (2008)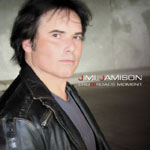 Former Survivor vocalist Jimi Jamison teams-up with fellow ex-Survivor band mate Jim Petrik to produce the best album Jamison has appeared on since Survivor's 'Too Hot To Sleep' album some twenty years ago! The songs on here blow away the last Survivor album 'Reach' and Jimi Jamison's last solo album 'Empires' with ease.
This time around there are more rock tunes something that was distinctly lacking on the last Survivor album but fear not there are some exquisite ballads like 'As Is'. Survivor fans will be in seventh heaven after listening to 'Friends We Never Met' (one of many songs on this album that pays tribute to the fans and the music) which starts slowly like the Survivor classic 'First Night' before exploding into a flurry of drums and guitars - awesome. 'Battersea' is another fine rocker with Tommy Denander adding his guitar talents, although slightly bizarre lyric about 'war torn' Battersea (London). 'She Means Nothing To Me' and 'Make Me A Believer' (Night Ranger drummer Kelly Keagy guests on this one) keep the rock quota high. Starship's Mickey Thomas duets on 'Bittersweet', one of those mid tempo songs that Jim Petrik does so well.
'When Rock Was King' is simply immense! A tribute to 80's rock music name checking many of the giants of arena rock plus many of the vocal stars of those bands take a turn at the mic for this song including Mike Reno (Loverboy), Don Barnes (.38 Special), Mickey Thomas (Starship), Joe Lyn Turner, Jim Petrik and original Survivor vocalist Dave Bickler. An excellent way to close a very enjoyable album.
Jimi Jamison is on top vocal form and backed by Jim Petrik's songs and production makes for a real winner. This will I am sure make many year end 'Best Of' lists and is the nearest you will get to a Survivor album nowadays. Crank it up and enjoy!
****½
Review by Jason Ritchie
---
| | |
| --- | --- |
| | Print this page in printer-friendly format |
| | Tell a friend about this page |