Eighties retrospective for 40th birthday boys...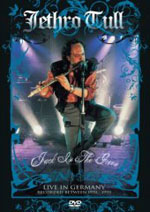 This is an unusual release, coinciding with the band's 40th anniversary. Whether due to constraints of available footage or by design the producers have chosen to feature three German TV concerts from the eighties - not exactly Tull's golden period. The ubiquitous "keyboard solo" really says it all during this decade and Peter-John Vettese's mullet...well.
The main gig comes from 'Rockpop' in 1982 when they were promoting their 'Broadsword and The Beast' album. Fast-forward to 1986 and we get five tracks including 'Thick As A Brick' and some rare noodling from Martin Barre leads into one of those instrumental pieces that the band does so well (and that never appear on album!). From 1993 two tracks from their 25th anniversary tour 'My Sunday Feeling' and 'So Much Trouble' feature the band in their "lounge lizard" setting.
As a bookend, and somewhat incongruous, there are two vintage performances from 'Beat Club' dated 1970-71. As to be expected from this series, weird camera angles and transitions abound and it is very much of its time. The false start to 'Nothing Is Easy' will interest the faithful, though.
There is a useful booklet with commentary (and endorsement) from Ian Anderson which puts these German gigs in context. He pays homage to legendary German promoter Fritz Rau (who invited Anderson back in 2005 for the unplugged Frankfurt orchestral concert also documented on CD and DVD). According to Rau it was Jimi Hendrix who recommended Tull after they'd supported him in Scandinavia and - in 1970 - at the Isle of Wight Festival.
Sound-wise the DVD is OK but nothing more than you'd expect from 20 year old videotape.
As a historical curios and snapshot of the band in the eighties this DVD will be lapped up by hardcore fans, but newcomers might be better served with 2002's 'Living With The Past' or even 'Live At Montreux 2003'.
***½
Review by David Randall