JEFFERSON STARSHIP Jefferson's Tree Of Liberty
Evangeline GELM 4122 (2008)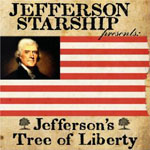 Not so much a new Jefferson Starship CD perhaps, as a west coast aggregation assembled by Paul Kanter and his manager Michael Gaiman. In fact there's not so much west coast inspired Acid (folk) rock as a full blown return to the folk roots that initially inspired Jefferson Airplane.
Apparently the songs were part of an abortive attempt to sing protest sings in Cuba, which is a neat idea if not the basis of a new album!
'Jefferson's Tree of Liberty' features no less than ten musicians, comprising the core of the current Starship tour band, including a significant contribution from Airplane/Quicksilver member David Freiberg, plus cameo appearances from Marty Balin, Jack Casady and even Grace Slick on a marvellous bonus track. But before long time fans get too excited, you really would have to have been with the band from the beginning to share Kantner's enthusiastic trawl through his folk roots.
Of course the core of Jefferson Airplane lay in the pre-acid folk clubs and coffee houses of the west coast in which the politically charged Weavers held sway. But while it's a nice idea to trace the folky origins of the band through a batch of cover songs, the inclusion of a brace of Irish folk songs alone - the oft covered 'The Auld Triangle' and 'Rising of the Moon' (both frequently heard in North London expat Irish pubs) - suggests a paucity of ideas let alone material.
The band further launch into a misguided conjoining of Lennon and Marley on 'Imagine Redemption' which is perhaps best left to Karaoke singers, even though if it is well sung by former band vocalist Darby Gould. And to top it all there's the liberation fervour of 'Comandante Carlos Fonseca' - a song possibly close to Kantner's heart following his historic trip down Nicaragua way a few decades ago.
Marty Balin shows he still has a lovely voice on 'Maybe For You' albeit the poppy sensibility of the song sounds like it belongs to a different era let alone a different album. Even the impressive a capella outro spot from Darby Gould, has in reality little to do with the Jefferson Starship moniker. Then again the way this project has been put together it's almost a case of the best of those left standing!
Having read the liner notes it seems the project is presided over by manager Michael Gaiman, who tries hard to bring coherence to 'the Cuba project' that might well have been better suited to a Kantner solo album And yet being Jefferson Starship there are a few magical twists and turns to redress the balance, most notably on Kanter's own self penned 'On The Threshold of Fire' which is 3 part harmony led West Coast tinged folk rock at its best, and the earlier 'Kisses Sweeter Than Wine' on which he splendidly croaks his way through to the end.
The other two rays of light come in the shape of the raggedy old folk song 'Frenario', featuring David Grissman on telling mandolin and the far more recognisably west coast Airplane feel of 'In A Crisis' which benefits from Barry Sless's awesome pedal steel.
And even though the band belatedly play their trump card with Grace Slick featured on the bonus track 'Easter Egg', you suspect there's not enough trademark gusto to drag the majority of fans along with them. Best filed under Paul Kantner remembers!
***
Review by Pete Feenstra
---
| | |
| --- | --- |
| | Print this page in printer-friendly format |
| | Tell a friend about this page |