JAYCE LANDBERG Break The Spell Escape Music (2008)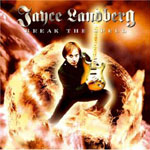 Swedish guitarist and composer Erik Jayce Landberg presents his debut album and he has chosen well on the vocal department, with none other than Goran Edman (Malmsteen/Glory/Vindictiv/John Norum), who knows his way around composing a strong melody. Edman's influence can certainly be heard on the vocal arrangements, check out the Queen like harmonies on 'Left On A Dream' or the ultra catchy 'Burning Bridges'. Both are great melodic hard rock tunes with Landberg laying down some tasty solos but never going OTT on the widdly scale. Mio Jagger pops up to add some female operatic vocals on the short but sweet 'Dawn', which doesn't really seem to fit in musically with the rest of the album. There is only one instrumental 'Kusamura' which allows Landberg a chance to show his guitar skills.
Two other stand outs are 'Land Of The Dark', which sees Edman in metal vocal mode and sounding like Ronnie Dio at times! 'Flirting With Your Wesson' takes a hard rock route with an instant chorus.
A very strong set of songs, none of which outstay their welcome. Landberg and Edman make a good team and hopefully this debut will be the start of further music from the two musicians. Fans of Goran Edman, melodic hard rock and Malmsteen should buy this one ASAP.
****
Review by Jason Ritchie
---
| | |
| --- | --- |
| | Print this page in printer-friendly format |
| | Tell a friend about this page |