JASON MRAZ We Sing, We Dance, We Steal Things (2008)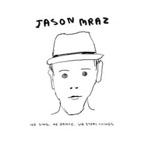 As a rock reviewer, you fear the worst when you discover that an artist is pre-selling gig tickets through a social networking site - in this case Bebo. And when you spot on the album credits that James Morrision has a guest spot you immediately conclude this is aimed at young girls and Mums who are still young girls at heart.
It most likely ain't gonna appeal to you average Guns 'n Roses fan. But that said, Mraz has opened for Alanis Morisette and The Stones so let's not pre-judge the guy.
The reality is that Jason is a clean-cut sort of guy, and so is We Sing, We Dance, We Steal Things. It's radio friendly pop that plunders the American top 100 from the year dot. There's hints of everyone from Earth Wind And Fire to Paul Simon to The Beatles to Stevie Wonder and beyond and spans soul, reggae, country, pop, you name it. And almost only as American's can, it's delivered with that Disney plastic perfection. So there's no argument that it's immaculately sung, played, recorded and produced.
In fact, it's just so easy to get sucked in and so easy to listen to. As a dinner party record it would be hard to fault, it certainly won't have your guests choking on their consommé, but if you're in the mood for some rock 'n' roll, look elsewhere.
***
Review by Pete Whalley
---
| | |
| --- | --- |
| | Print this page in printer-friendly format |
| | Tell a friend about this page |