IMAGIKA Feast For The Hated (2008)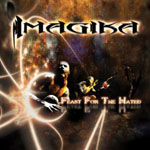 Imagika return with a new album, their fifth in total but first for the Locomotive Records label and once again they recall the original era of Bay Area thrash metal with Testament being one band brought to mind.
Opening track "Waking The Dead Man" sets an almost disconcerting mainstream theme with a distinctly melodic hook but they prove able to transcend from accessible to extreme with ease, singer Norman Skinner as adept at the Rob Halford scream as he is at gutterall, death metal growl. It makes for an interesting mix though and after a few listens works well. Mid-album, "The Sick Sense" is something of a highlight. Cultured, mature and almost balladic it explodes mid track before reprising the softer opening. Quiet to loud is an old metal trick but once again it works.
There is other stuff of note on here too. Archetypical thrasher "New Power Rises" removes a few cobwebs and again proves Skinner's ability whilst "Succubus" ends the album on a more theatrical note. A mature take on thrash metal, it's not for the feint hearted at its heaviest but they're clearly experienced enough a band to know that an all-out assault can often fail. The breadth of diversity means it won't appeal to all, and a mass appeal album may still be within them if they choose to compromise that breadth, but its well worth hearing if something a little different to the more frequent thrash metal sound is sought.
***
Review by Bill Leslie
---
| | |
| --- | --- |
| | Print this page in printer-friendly format |
| | Tell a friend about this page |