R&B maverick plays a career swansong ...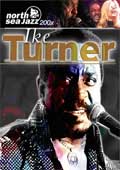 They say what goes round comes round and ignoring the darker side of Ike Turner's reputation, this 2002 North Sea Jazz Festival performance sees him returning to his early career big band revue format as a band leader, pianist and later as a guitarist. And little over 50 years on from when he first started, this come back show might not be his finest musical moment, but certainly presents a rounded view of his musical credentials and influences.
Recorded a year after his comeback Grammy award nominated 'Here & Now' album, the main body of the concert and the additional live concert footage draws on only three songs from the new album of which the instrumental boogie 'Baby's Got It' is easily the best, while 'I Need A Nuddin' employs a vague funky feel and isn't helped by Ike croaky baritone.
But as if to offer a sense of a topping and tailing of his career, he impresses on the historic 'Rocket 88' (reputedly the first de facto rock and roll record) and later brings out his latest statuesque partner/lead vocalist Audrey Madison, to duet with on a cover of 'I've Been Loving you To Long'.
And while Audrey certainly hasn't the same vocal range as Tina Turner she offers enough gusto and shares enough on stage sexual innuendo with Ike to seemingly whip the crowd into a frenzy. In spite of her occasional squeals and shouts Audrey acts as the perfect foil for Ike frazzled baritone. And as the number builds up to its climax, complete with pumping horns, and a brief Ernest Lane synth solo Ike takes his farewell bow, and for a moment you almost believe the emcee's shout of 'The Father of Rock & Roll'.
In fact it would be more accurate to label Ike 'the king rock & raunch', as he was never quite dispels sleaze quotient and that is a shame given his stellar musical career which is well amplified at the 2004 Memphis Heroes Award at which the likes of BB King, Little Milton and the seemingly indestructible Pinetop Perkins all extol the virtues of Ike's contribution to contemporary music.
Indeed the mixture of vintage concert footage, band member and tour manager interviews paint a picture of Ike as a hard working band leader. Ultimately the music just about triumphs over the sleaze but Ike does himself no favours with the frankly tacky performance by the latest version of the Ikettes at the Piazza Blues in Switzerland (1999). But then again this is a man who grew up on the inherent concept of old time r&b as entertainment, and if this is giving the people what they want then so be it.
****
Review by Pete Feenstra