HONEY RYDER Rising Up (2008)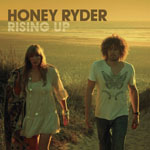 Named after none other than the character played by Dr No Bond girl Ursula Andress (who, let's face it looked a hell of a lot hotter emerging dripping from the ocean than Daniel Craig, but who anoraks will know better as Honeychile Rider) Honey Ryder are, in fact, London-based performing duo Martyn Shone (guitars) and Lindsay O'Mahony (vocals).
And not only do they have a cunning name, but an equally cunning business plan that allows fans and dragons to not only invest to accumulate (and take advantage of future revenue streams) but to also get tax relief care of the Enterprise Investment Scheme. Cunning indeed.
The twosome wear their influences (Fleetwood Mac, Coldplay, Stereophonics, Oasis, Athlete, Radiohead, The Beatles, Sheryl Crow) not only in their songs, but also on their album sleeve which has a distinctly 1970's West Coast feel with embroidered granddad's vest and corkscrew hair (Martyn) and a cheesecloth mini-dress (Lindsay).
But there is actually substance underpinning the image. And it's exactly as the band themselves describe - 'a bit of everything but you can't quite put your finger on'. The itch I was trying to scratch on first hearing was somewhere between Buckingham/Nicks Mac and Madonna, the album having a distinctly summer, 'top down' feel. Which is perhaps alittle surprising given the production by Goldust (Bryan Adams, Natasha Bedingfield) and mixing by LA's Brad Gilderman (Madonna, OutKast) and Bob Kraushaar (Robbie Williams, Pet Shop Boys).
But its not all lightness and sunshine - there's some chunky guitar work, and check out the band's video for their single Numb with its bondage theme (and we're not talking 007). But what Rising Up is a stonking good pop/rock album designed as the perfect [Californian] road trip soundtrack. My difficulty is that after several listens, I'm still not certain just where the target market lies - pop - rock or somewhere in between, but then maybe that will simply serve to spread the band's appeal.
Let's hope so, because whichever way you look at it, Honey Ryder are a very sound investment.
****
Review by Pete Whalley
---
| | |
| --- | --- |
| | Print this page in printer-friendly format |
| | Tell a friend about this page |