HEY NEGRITA You Can Kick FSM CD023 (2008)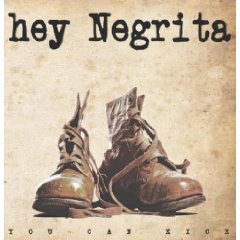 The London based Hey Negrita take their name from the Stones 'Black & Blue' album and quickly reveal similar rootsy influences. But at the core of the band lies with the troubled lyrics of German singer sing writer Felix Bechtolsheimer who explores a series of fluctuating emotions through failed relationships in an Americana style genre. Unlike many other such wordsmith's his lyrics are deeply personal and for the most part doomy, dark and totally uncompromising.
What makes the whole album the right side of palatable - indeed almost essential - is the attention paid to some superb arrangements and some splendid individual playing. In short you don't have to know that Felix has been through the drink and drug cycle to get where his is now, but the world weary voice and shattered psyche lyrics are all too evident in the 12 tracks here.
There are shades of Dylan, Johnny Cash and a glance at his MySpace includes significant nods to Townes Van Zandt and Guy Clarke. But while these towering figures of the roots genre are very relevant, Felix is a recovered addict whose lyrics are painfully rooted in his own turbulent past.
Indeed, he's 'going down' on the opening 'Room Service', threatening violence on the memorable 'Go Again', picking at another potentially failed relationship on the starkly titled 'Chained' and 'scraping shadows off the wall' on the truly excellent 'Cold'.
By the time of another dark outing 'Lies' you might wonder about the projects sense of equilibrium. But this is no one dimension trip to hell and back, and Hey Negrita is a real 'live in the studio band' that features the excellent Matthew Ord on various guitars and banjo and Will 'Captain Bliss' Greener on blues harp and collectively they do Felix proud.
In fact it's the juxtaposition of the dark, wearily delivered lyrics and the sparkling instrumentalism that lifts the whole deal out of a potential Leonard Cohen style trough. The great harmonies on 'Fishin' are a celebration of a confident band while the surprisingly wonderful sprightly horn arrangement on the closing 'The Last Thing I Do' is part of the armoury of a song writer who can see above the parapet of his own troubled past.
The songs are excellent, the singing suitably ragged and the music embraces a broader musical vision that gloriously extends from the roots of the blues and refracts Felix's personal vision via an Americana feel that will potentially sell the band to a bigger Stateside audience.
****
Review by Pete Feenstra
---
| | |
| --- | --- |
| | Print this page in printer-friendly format |
| | Tell a friend about this page |