H.E.A.T. Heat StormVox Records (2008)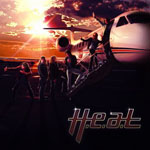 What is it about Sweden? They keep producing these wonderful melodic rock bands and H.E.A.T. are the latest in a long line of great bands. Yes they party and play like it's the 80's but with a modern production and some seriously catchy riffs. Not as keyboard led as Brother Firetribe nor as glam as Wig Wam or the Poodles, more like Europe if they hadn't taken onboard modern rock influences. Another band they remind of are Giant, especially on the ballad 'Follow Me'. 'There For You' and 'Late Night lady' see the harmony vocals set to max and the dual guitar sound adds the required amount of crunch to the sound.
Vocalist Kenny Leckremo has a great range handling the hard rockers and ballads with ease - a great vocal find. 'Keep On Dreaming' could be Night Ranger, whilst 'Straight Up' allows the harmonies to shine. The songs are all top draw bar the last two which are not quite as strong as the rest of the album. The band play to their strengths and with a glossy modern production the sound won't date too quickly either.
If you love 80's melodic rock buy this album now, simple as that!
****½
Review by Jason Ritchie
Interview
---
| | |
| --- | --- |
| | Print this page in printer-friendly format |
| | Tell a friend about this page |
***** Out of this world | **** Pretty damn fine |
*** OK, approach with caution unless you are a fan |
** Instant bargain bin fodder | * Ugly. Just ugly
get ready to rock is a division of hotdigitsnewmedia group