HEADHUNTER Parasite Of Society AFM (2008)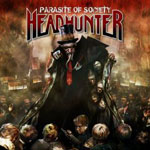 "Parasite Of Society" marks yet another reunion, this time "Schmier"(vocals/bass) of "Destruction" notoriety gets back together with "Schmuddel" (guitar) and the more conventionally named Jorg Michael (drums - ex-Saxon/Stratovarius) to produce the first "Headhunter" album since 1995's inaccurately named "Rebirth".
Aggressive, somehow typically German metal it could be described on occasions as melodic thrash as easily as it could be termed "influenced by Judas Priest". It's mostly heavy fare but not without its subtleties either. "Remission" has an "Brutal Planet" Alice Cooper feeling about it for instance while the thunder of "Silverskull" stands out and the speed metal punch of "Doomsday For The Prayer" provides another highlight. Pick of the bunch is probably "Egomaniac" with its memorable put down line of "You were born an egomaniac..." just sticking in the head! There's also a cover of Priest's "Rapid Fire" to close the album although this also marks a hint of perhaps running out of material?
At times the album comes over a little too raw, the vocals especially not always as impressive as you think they could be. A mid-album stab at Skid Row's "18 And Life" also makes for a strange inclusion too. More commercial than anything else included it sounds out of place and like "Rapid Fire" also doesn't quite match the original. Overall though its a decent release, certainly one of the better out and out metal albums to emerge so far this year.
***½
Review by Bill Leslie
---
| | |
| --- | --- |
| | Print this page in printer-friendly format |
| | Tell a friend about this page |
***** Out of this world | **** Pretty damn fine |
*** OK, approach with caution unless you are a fan |
** Instant bargain bin fodder | * Ugly. Just ugly
get ready to rock is a division of hotdigitsnewmedia group