HAREM SCAREM Hope Frontiers (2008)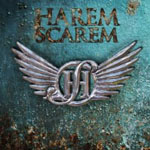 Harem Scarem decide to call it a day after releasing some fine albums such as 'Mood Swings', 'Higher', 'Weight Of The World' and their last album 'Human Nature'. Fans of the band either love thier earlier, more melodic rock albums or the latter harder edge tunes. I personally like both styles of the band although 'Overload' was a let down in thier normally high standards.
Sad to report that this new album sees the band go out on a whimper rather than a bang. There are some great tunes to enjoy though like the title track, 'Time Bomb' and the acoustic re-working of 'Higher' which gives that tune a whole new lease of life. The other songs though sound fine but just fail to live up the band's high standards and overall this album reminded me of 'Overload', namely a band in cruise control.
Not a classic but fans should still get it as they will doubtless find songs to enjoy on it. Just a shame it was not a real 'must have' album that left fans wanting more and putting pressure on the band to reform :) Be interesting to see what the band members do in the future.
***½
Review by Jason Ritchie
---
| | |
| --- | --- |
| | Print this page in printer-friendly format |
| | Tell a friend about this page |
***** Out of this world | **** Pretty damn fine |
*** OK, approach with caution unless you are a fan |
** Instant bargain bin fodder | * Ugly. Just ugly
get ready to rock is a division of hotdigitsnewmedia group