Just witnessed your best live gig?.. send us a review!
GUN
Shepherds Bush Empire, 18 December 2008
Of the plethora of reformations, that of Scottish rockers Gun has been one of the more surprising. Chart regulars in the early 90's and support to the Rolling Stones, Def Leppard and Bon Jovi, they slipped quietly away seemingly not to return after an ill-received attempt to sound like INXS on their fourth album in 1997. To add to the unreality, original singer Mark Rankin was committed to his record industry job so Toby Jepson from contemporaries Little Angels has taken his place.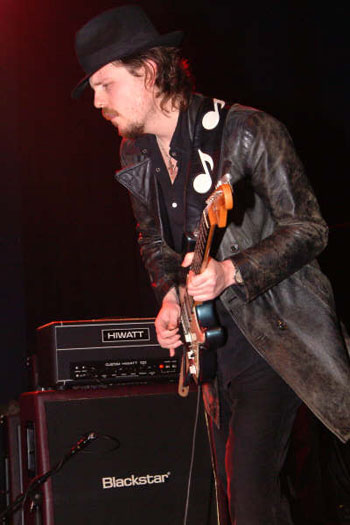 Photo by Noel Buckley
A disappointing crowd of 350-400 got their full money's worth with three support slots including the talented, if at times Zeppelin-esque Big Linda, and Warrior Soul playing the whole of their 1990 album Last Decade Dead Century. A substantial number of people seemed to be there for them, but despite the enthusiasm of the band (many of whom appeared too young to be original members) I'm afraid the hoarse shouting of Kory Clarke and his incomprehensible comments between songs did not do it for me.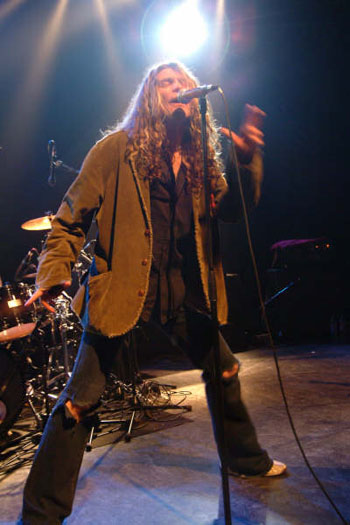 Photo by Noel Buckley
With guitarist Joolz Gizzi (the only original member with bassist brother Dante) soldiering on through illness and Toby feeling his way, Gun started slowly and the night threatened to become an anti-climax.
Some of the slower songs did not suit his voice, but he shone on Money to Burn and gradually the evening turned into a triumph.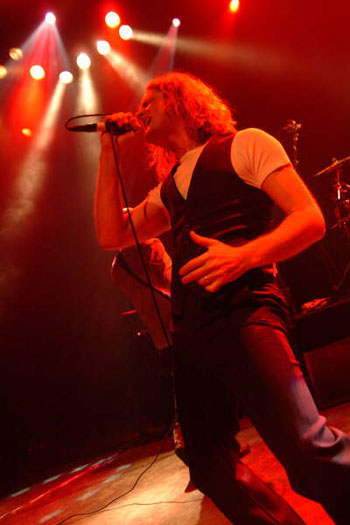 Photo by Noel Buckley
They played their debut album Taking On the World in its entirety, but interspersed with other songs rather than play it in sequence and risk killing the momentum.
Instead the evening built to a climax impressively as the stirring title track and Inside Out- with the Police's So Lonely cleverly interpolated - got the faithful going in time for a trio of classic singles - their signature cover of Word Up, the huge choruses of Steal Your Fire and Joolz' fierce riffing to Shame.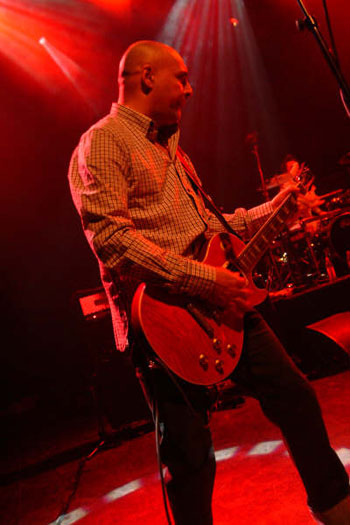 Photo by Noel Buckley
By the time they encored with Welcome to the Real World and the first of the rousing anthems with which they made their name Better Days, complete with a fan onstage in a kilt, most early reservations had been set aside.
And the good news is that they intend to record new material with Toby, who will then become less of a (excuse the pun) gun for hire. Lets hope the turnout is bigger next time.

Review by Andy Nathan
Photos by Noel Buckley
---
| | |
| --- | --- |
| | Print this page in printer-friendly format |
| | Tell a friend about this page |