VARIOUS The Best Of While My Guitar Gently Weeps
2-CD Universal (2008)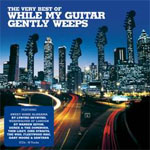 You have to be suspicious of rock compilations: they're usually cash-ins to coincide with a film or a calendar event (Father's Day being a favourite) and due to licensing constraints and compiler predilections they will rarely be a definitive account.
This series has been going since 2002 and a best of the best of was perhaps inevitable. The only problem is that many will disagree with the selection as a definitive summary of rock guitar (and 'gentle' rock guitar at that). Indeed it may have punters of a certain age debating their own infinitely superior playlists.
This is a mix of the obvious (Derek and the Dominoes, Joe Walsh) and the slightly absurd (Rupert Holmes, Matthews Southern Comfort, John Stewart, Bread) Indeed this is the major problem, 'While My Guitar Gently Weeps' could be a departure point for the tasteful, laid-back approach to the instrument through history - with plenty of better songs to illustrate the genre - but the compilation is then confused with out and out rockers like Free's 'Wishing Well' and The Who's 'Who Are You'. And who needs yet another version of 'Samba Pa Ti'?
In the digital age, this sort of mix has to offer something risky or more challenging and this series is as safe as Eric Clapton's pension plan.
The only benefit of this bizarre juxtapositon of the good and the not so good: occasionally - and purely by chance - we get a few tunes that make a connection: 'Jackie Blue' from the Ozarks, for example, a radio hit when released in 1975, and of course Roy Buchanan is one of the great unsung guitar heroes.
Who buys these compilations? Lazy middle-aged men who have had a hard-drive failure? This release makes a greater case for downloads - just filter your favourites and then investigate the more obscure offerings from the artists in question. Better still, buy an album with David Gilmour on it.
**½
Review by David Randall
CD ONE
Warren Zevon - Werewolves Of London - Lynyrd Skynyrd - Sweet Home Alabama - Derek & The Dominos - Layla - Joe Walsh - Rocky Moluntain Way - Dire Straits - Brothers In Arms Thin Lizzy - Still In Love With You - Fleetwood Mac - Black Magic Woman - Justin Hayward & John Lodge - Blue Guitar - Matthews Southern Comfort - Woodstock - John Lee Hooker - The Healer - Roy Buchanan - Sweet Dreams - J.J. Cale - Cocaine - Free- Wishing Well - Peter Frampton - Show Me The Way - Gary Moore - Still Got The Blues (For You) - Creedence Clearwater Revival - Have You Ever Seen The Rain - Wishbone Ash - Blowin Free - Chris Rea - The Road To Hell (Part II)
CD TWO
The Who - Who Are You - Joe Walsh - Life's Been Good - Stealers Wheel - Stuck In The Middle With You - John Stewart - Gold - Snowy White - Bird of Paradise - Bread - Guitar Man - Python Lee Jackson - In A Broken Dream - The Ozark Mountain Daredevils - Jackie Blue - Traffic - Dear My Fantasy - Rupert Holmes - Escape (The Pina Colada Song) - Boston - More Than A Feeling - Del Amitri - Kiss The Thing Goodbye - Robert Palmer - Bad Case Of Loving You (Doctor, Doctor) - Santana - Samba Pa Ti - The Doobie Brothers - Long Train Running - Gary Moore - Parisienne Walkways Angel - Rod Stewart - The Jeff Healey Band - While My Guitar Gently Weeps
---
| | |
| --- | --- |
| | Print this page in printer-friendly format |
| | Tell a friend about this page |