Just witnessed your best live gig?..send us a review!
GREAT WHITE
Shepherds Bush Empire, London, 2 February 2008
(Jack Russell, photo: Noel Buckley/GRTR!)
On their first tour on British soil in seven years, Great White produced a performance of real depth to prove that the bluesy Californian rockers have far more to offer than many of their contemporaries from the hair metal scene of the 80's.
The return of four-fifths of their original line up seemed to have revitalized the band from the moment they got off to a flying start with Desert Moon, once the initial surprise of singer Jack Russell's newly short and spiky hair had worn off.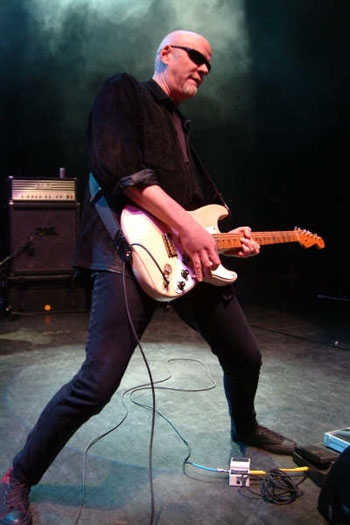 (Mark Kendall, photo: Noel Buckley/GRTR!)
We got a good mix of material, from fan favourites such as Face The Day and Mista Bone; material from all phases of their career, 1982's Down On Your Knees which segued into Led Zeppelin's Achilles Last Stand through to 1999's Rollin Stoned; and more laid back numbers like Old Rose Motel and House of Broken Love, allowing angular guitarist Mark Kendall, casting a striking figure in shaven head and shades, to show off his crisp, bluesy solos.
However the variety of the set was what raised it above the norm - there were solo songs from Russell (Paradise) and Kendall (Rooster, with 2nd guitarist/keyboardist Michael Lardie adding slide guitar), while both Lardie, on Lovin Kind, and impressive bassist Sean MacNabb, covering Robin Trower's Day of the Eagle, were allowed to show off surprising vocal talents.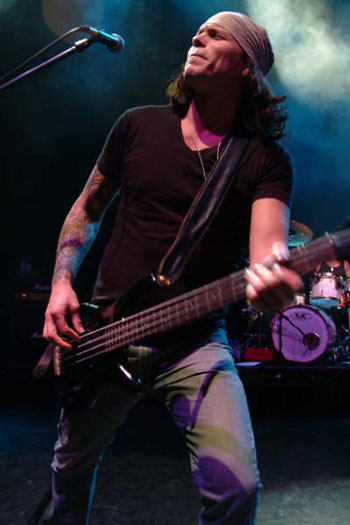 (Sean MacNabb, photo: Noel Buckley/GRTR!)
Oddly though, they missed an opportunity to plug their comeback album Back To The Rhythm with only the enjoyable title song played. But in the home straight they reverted to more familiar fare as the boogie of Call It Rock n Roll and Rock Me's changes of pace sent a respectably sized crowd into a frenzy, Russell racing up and down the full length of the stage.
The encore opened with another trip to the Led Zep songbook the band love so much with No Quarter, and they had the musical ability to carry it off to a T, before the crowd had plenty of opportunities to participate during Can't Shake it, their parody of the rock star lifestyle Wasted Rock Ranger, and their signature cover of Once Bitten Twice Shy.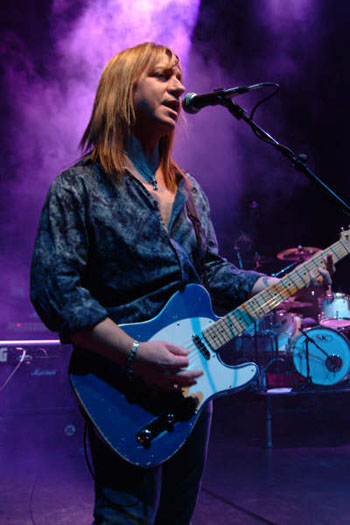 (Michael Lardie, photo: Noel Buckley/GRTR!)
No-one left shortchanged with a two hour set and the good news is that they promise to return later in the year, which is one not to be missed.
****
Review by Andy Nathan. Photos by Noel Buckley.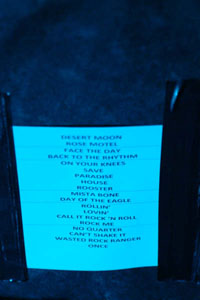 (Photo: Noel Buckley/GRTR!)
---
| | |
| --- | --- |
| | Print this page in printer-friendly format |
| | Tell a friend about this page |