Just witnessed your best live gig?..send us a review!
GLENN HUGHES
The Robin, nr. Wolverhampton 20 September 2008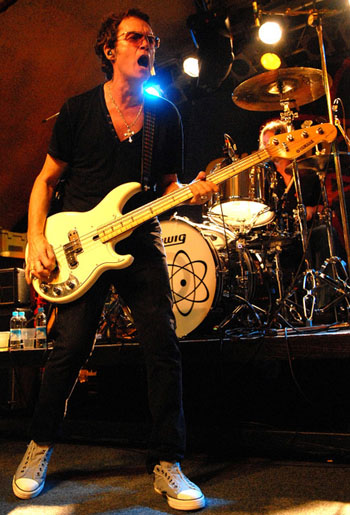 Glenn Hughes made another triumphant return to his Midland UK fan base last night with a special gig at The Robin to mark its anniversary.
Ever confident Mr. Hughes strode on stage on his own with a red acoustic and set to work on the Trapeze back catalogue which don't normally see the light of day with a full band.
Apart from the venue's own celebrations, this was also a homecoming for the late Mel Galley who passed away earlier this year. Galley, founder of Trapeze and guitarist for Whitesnake, was one of Glenn's stable friends and confidantes through all the trials and tribulations of this often crazy business.
The "Evening With" market has burgeoned over the last few years and Glenn Hughes slips nicely into the natural role of witty raconteur with "backstage" accounts about luminaries such as Jon Lord, Sharon Osborne and David Bowie. Once the Joel McIvor biography is out in early 2009, I can see many peeping over their cosy country parapets with some anxiety prior to this kiss and tell account. Jools Holland would do well to get his teeth into some of this before the book is released.
Not that Glenn is dishing the dirt for the sake of it. He sees it as a story long overdue. Purple's PR machine went into overdrive in 76 perpetrating the myths of Hughes singlehandedly destroying Purple by fu(c)(n)king it up.
Another perspective is in the pipeline and ready to burn those yellowed press releases. Garry Moore's famous jibes about Glenn's penchant for Colombian imports, have gone thus far unchecked. People in glass houses spring to mind.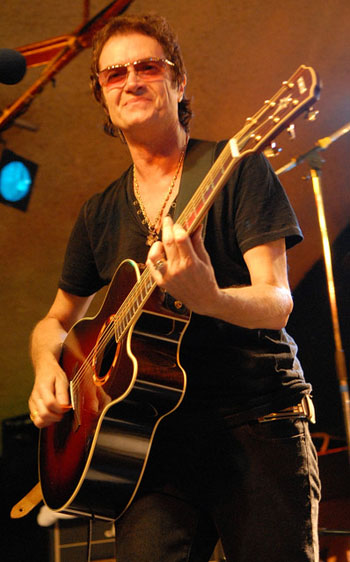 But it's the music that always counts. Glenn Hughes is a proficient guitarist and in fact started out with the instrument before Mel Galley said he could join Trapeze on bass. Imperfection off the F.UN.K album was all the more soulful for losing some of the production layers off the original. Anders Olinder supplies a perfect foil with his Fender Rhodes interludes which underpinned Glenn Hughes's jazz vocal intonation.
Hughes' early Trapeze songs such as Seaful , a highlight of the acoustic part of the set, showed the incredible maturity of a song writing teenager when they were stripped down to unplugged essentials.
Glenn Hughes revealed that some years later he adopted the practice of writing his songs in the dark. This was the case with his first post Purple solo offering, Play Me Out from which the last track I Found a Woman was well received.
Holy Man which closed the acoustic section was a revelation. What a quality song, often reviled by many Purple fans who saw it as instrumental to Ritchie Blackmore's departure from DP Mark 3. Claptrap! Ritchie Blackmore had been planning 100% control of a band long before he left the studio to Glenn Hughes and David Coverdale's so called double time tango or worse, "shoeshine music." Wasn't this about musical differences and not scapegoats? Hughes was recruited from Trapeze for his funky style in the first place.
By the time the full band of Matt Goom and guitarist Tony Rennie joined the fun for the full band set, an impressive back catalogue had already been revealed.
Glenn Hughes's song writing ability was gathering pace in the early 70's. Trapeze's ballad Coast to Coast was the first of the quality standards which had matured by the time of Deep Purple's Come Taste the Band. I hadn't heard This Time Around live for some time and was almost startled as to how bold this song actually was. Sometimes you have to ask yourself whether you are liking a piece simply because it has associations with a grand brand. But no. This Hughes Lord collaboration typified the potential that Mark 4 had before the Kali Mist displaced the spotlights and dry ice.
An emotional moment when the late Mel Galley's wife joined Glenn on stage for a presentation. There was no doubt to whom this show was dedicated. Instead of grabbing his familiar bass, Glenn announced that he was going to play the holy grail of guitars, Mel's black beauty, his Gibson Les Paul.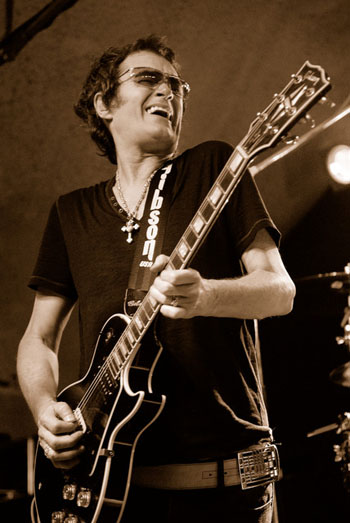 Highlight in this section was Superstition in which Glenn played all the signature fills associated with that blockbuster.
Trapeze's Black Cloud showed why that band could regularly hack it on bills with the likes of the Moody Blues in America's stadia before international stardom with the mighty Purple beckoned.
Once Tony Rennie and Glenn swapped to their more comfortable roles, Mistreated was broadly the same version that Hughes took on the first leg of his European tour and a crowd pleaser at that.
The Bolin/Hughes song, Getting Tighter, again from Come Taste the Band, was a further example of the hit single that might have occurred had the outfit survived its pressures. This ten minute version must stay in the set plans. It further accentuates Glenn Hughes's claim to be the godfather of funk based rock which makes the likes of the Red Hot Chili Peppers so popular now.
The Q&A in between was a soft diversion with ever efficient Tour Manager Tonio, affectionately known also to fans of UFO, strict in his 10 questions role. When Hughes was pressed about who he would like to work with, Stevie Wonder was the main hub of the reply. Jeff Beck on guitar. Anyone else? Glenn shrugged and Tonio jumped in and said "yeah Stevie Wonder, next question please," to hearty laughter from the audience.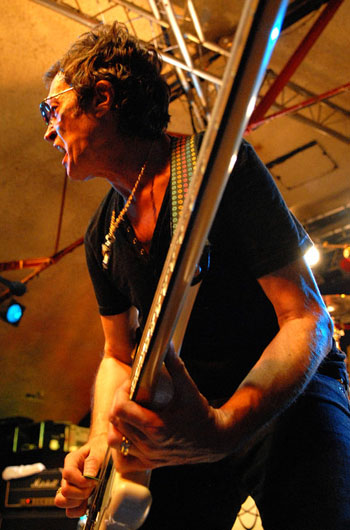 There was no joy for those looking for a firm reposte to the possibility of collaborating with Coverdale. Hughes revealed that they email each other seven days a week and it seems that will be the sum total of the relationship.
And so once the back stage ticket package had been fulfilled, punters went away happy that the Voice of Rock (is there really a challenger on the same planet in 08?) was in as good a form as his beloved Wolves who lie on top of the division.
If you want a taste of the full band which will include the addition of Luis Maldanado, they play four dates in Spain followed by a whole Russian tour when they take on the current Deep Purple town for town. Don't bet on a tired Mark 8 getting their own way on ticket sales!

Review by Keith Thompson
Photos: Lee Millward
---
| | |
| --- | --- |
| | Print this page in printer-friendly format |
| | Tell a friend about this page |