Just witnessed your best live gig?.. send us a review!
GIRLSCHOOL
London Astoria 2, 16 December 2008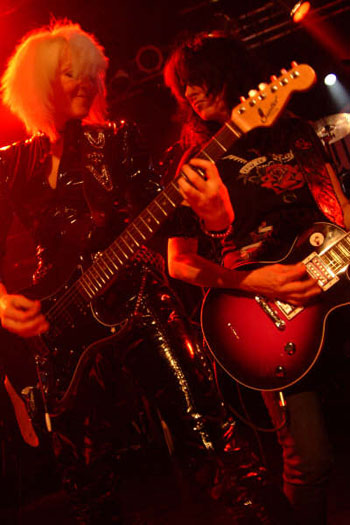 This 30th Anniversary show was much anticipated, and turned out to be a great evening.
The four girls have just released their new album 'Legacy' and celebrate 30 years (bar a brief hiatus in 90/91) in the business.

Sadly this small venue was only a little over half full, (not sure how much competition Hawkwind were, who were playing next door), but on recent form it is truly unbelievable that this band are not huge. Great music and even better live performance, they are as good as they are fun as they are gorgeous.

I didn't catch the name of the opening band, but they played a good trad power metal, somewhere between Helloween and Megadeth.
Next up were Blitzkreig, the NWoBHM band who have sporadically kept going. Not bad - but they still sound like they did at the turn of the 80s. Even the young blood couldn't brighten up the slightly cluttered and muddy sound, but you can see why they influenced the likes of Metallica.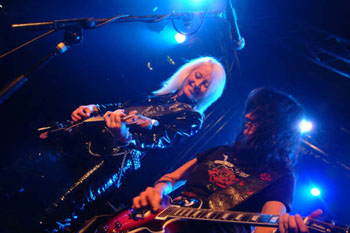 Before the main band appeared, I got to meet most of the band. Jackie Chambers pounced on me (again) to give me a hug, and even Kim was up for a hug even though she had a streaming cold. Neil Murray was in attendance too, he had guested on the new album. (But did he give you a hug, Joe?! - ed.)

The thing with Girlschool's music, is that whatever the sound, the venue, the gremlins, their brand of metal always comes over as clear, melodic rock'n'roll. So when the sound mix and the acoustics are good, like they were here, they are positively electric. They play like they are in real life - it's fun. This really was a party, they involve you, they banter, and you get some damn fine rock music along the way.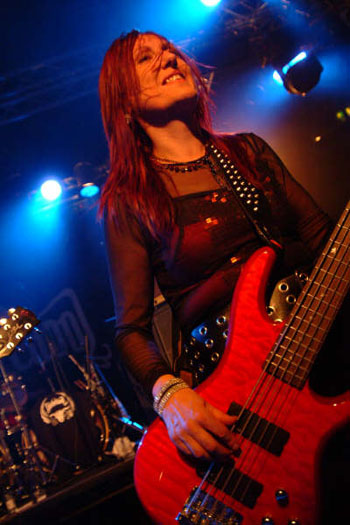 "C'mon Let's Go" opened (as it has done at every gig I've seen), and "Not For Sale" just blew you away with the sound, the power and Jackie's guitar solo. Kim and bassist Enid Williams shared vocals, and the crowd were soon enjoying themselves. "Hit and Run" is always a favourite, and "Never Say Never" from the Believe CD proved that the recent material stands up too. "Spend Spend Spend" from the new album featured Skunk Anansi's guitarist Ace.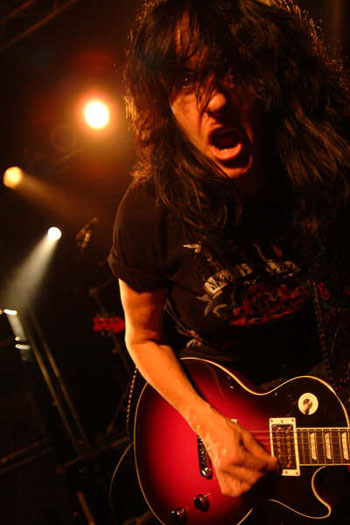 "Screaming Blue Murder" and "Coming Our Way" were as anthemic as ever, the rhythms solid, the guitar solos blistering. Another track from Legacy was dedicated to Kelly Johnson, before Saxon's Doug Scarratt took to the stage. The duelling between him and Jackie on "Everything's The Same" was just amazing. Jax later told me she loves playing with him.
Three more classics in "Yeah Right", "Race With The Devil" and "Demolition Boys" were unbeatable, before Ace and Neil came back on stage to finish the set with "Emergency". Doug re-entered for the encore of "Take It All Away". The crowed definitely wanted more. Would love a longer set, there is a fair catalogue to explore.

Definitely one of the most enjoyable bands you'll ever see live.

Review by Joe Geesin
Photos by Noel Buckley


---
---
| | |
| --- | --- |
| | Print this page in printer-friendly format |
| | Tell a friend about this page |