Just witnessed your best live gig?..send us a review!
GIRLSCHOOL
100 Club, London, 4 September 2008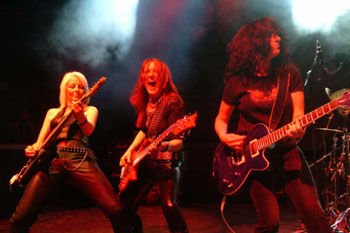 Girlschool are a band I never tire of seeing live, even when the venue doesn't suit them so well. This gig was a launch party for the now postponed new album, so expect another in a month or two.
The venue I'm not so keen on, as both stage and standing area are very wide, yet very shallow, and unless you're front row, view of parts of the stage are hidden by pillars.
It was good to see the venue so full. And while waiting for kickoff, I got the opportunity to chat with all four members of the band. Denise Dufort I've interviewed before, and met several times, and Enid has chatted the last few gigs too.
Lead guitarist Jackie Chambers caught me before I saw her, I was literally pounced on, and peck on the cheek enough to make anyone feel better. Kim McAuliffe was the only one I'd never really chatted to previously so that catch up was good.

The opening band were competent, sleazy and somehow largely forgettable. An element of Beth Ditto in the singer, and the guy in the one man mosh-pit probably felt a bit of a prat when he sobered up.

Tokyo Dragons were saying goodbye, splitting immediately after the gig, having released two albums. Some good solid metal, hard, powerful, full of energy, but rather samey by the end of the set.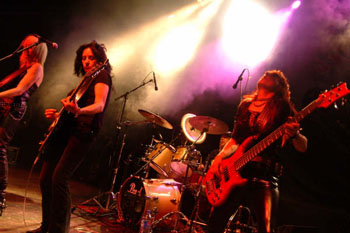 Girlschool are always fun; the attitude is rock'n'roll with a smile, the riffs are catchy, the energy is high. Each song breaks the setlist up without exception.

As always the band opened with 'C'Mon Let's Go', with 'Not For Sale' and 'Hit And Run' following in fine fashion.
The new album, "Legacy", features guest appearances from Fast Eddie Clark, Lemmy, Kelly Johnson (RIP), Ronnie Dio and more, and Girlschool previewed four tracks tonight. First up was 'I Spy', a track sung on record by Dio, previously previewed during the recent Dio support slot at the Astoria. It's a dark riff led number, a distinct hint of Dehumanizer. Next up were 'Spend Spend Spend' and 'From The Other Side' followed in fine fashion.
It was good to see these tracks get as good a response as the early numbers. 'Screaming Blue Murder' is a high octane number so catchy even David James could handle it.
Kim and Enid shared vocals, and Jackie provided many a solo. All four girls shared inter song banter with humour, which makes the band all the more enjoyable on stage.

'Future Flash' and 'Never Say Never Again' went down a storm, and the new 'Everything's The Same' was as enjoyable too. 'Race With The Devil', 'Demolition Boys', 'Emergency, 'Yeah Right' and 'Take It All Away' finished the set.

This year is Girlschool's 30th Anniversary and they both look and sound good on it. This album has been several years coming, and on this evidence it should be pretty damn good.


Review by Joe Geesin
Photos by Noel Buckley
---
| | |
| --- | --- |
| | Print this page in printer-friendly format |
| | Tell a friend about this page |