IAN GILLAN Live In Anaheim Edsel 0187732ERE (2008)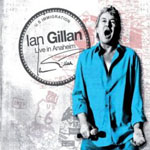 Ian Gillan is nothing if not busy. Taking time out from his Deep Purple commitments Ian and band recorded this double 'Live in Anaheim' CD on the 19th night of a 24 date spin on the 14th of September 2006. This was a couple of months in fact before his hugely talented bass player Rodney Appleby was unfortunately shot, though he lives to tell the tale!
Any new Gillan product is of interest, of course, though for long time fans there's not a huge amount that is new. Yes, there's Gillan's impressive vocal collaboration with manager/guitarist Michael Lee Jackson (referred to as his brother), and there's a few choice Purple outings, but given the recent 'Gillan Inn' 40th anniversary multi media career retrospective (which actually included two of these tracks) you could be forgiven for thinking that this is a case of more of the same.
However, the one thing 'Live in Anaheim' does do is give you is the feel of a real gig situation, complete with Ian's asides, ad libs and overall sense of fun. He dips into his solo career for the keyboard driven 'Hang Me Out To Dry' from 1991's 'Toolbox' album, rock's out on 'Unchain Your Brain' from 1980's 'Glory Road' and returns to his early solo career Elvis pastiche on 'Trouble'.
Ian also revisits such little played Purple outings as the impressive harp led 'No Worries', complete with a skanked up middle section. As Ian explains the title of the song derives from the consumption of a mega cocktail - either real or imagined - but either way the end justifies the means of inspiration. There's an inevitable but rousing 'Smoke on the Water' with a wah wah guitar inflection from the impressive Michael Lee Jackson, a crunching reprise of 'Into The Fire' and a closing rendition of the oft underrated 'Knocking At Your Back Door'.
And it is both guitarist Michael Lee Jackson the killer band that raises Gillan's performance. Ironically Ian is a peripheral figure on two other highlights, the Jackson guitar shred and low register vocal on 'Texas State of Mind' and the instrumental 'Rivers of Chocolate' which features guest musician and Purple producer Michael Bradford. But rather than a loose jam we get an inspired workout full of razor sharp licks, funky bass and stunt guitar, while Ian extends his characteristic falsetto/scream on Jackson's 'Have Love I'll Travel'.
If anything 'Live in Anaheim' might have been better as a single CD release, by dispensing with the drum solo (good as it is), and two of three filler tracks including 'Men of War'. But fans will revel in the fact Ian Gillan sounds like he's enjoying things in the company of a great band and a responsive crowd that all but drowns them out on the chorus of 'Smoke', proving once again that when it comes to rock anthems both Purple and the voice of Ian Gillan are seminal.
****
Review by Pete Feenstra
---
| | |
| --- | --- |
| | Print this page in printer-friendly format |
| | Tell a friend about this page |