GARY MOORE Bad For You Baby Eagle Records (2008)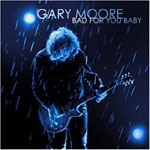 'Bad For You Baby' further explores the rock blues niche that Gary Moore has been pursuing since his 1990 'Still Got The Blues' album. But the new CD combines the full range of his explosive guitar playing with several interesting stylistic diversions. He appears to be branching out a little by exploring some country tinged rock on 'Down The Line', some muscular funk on 'Umbrella Man' and he even includes an impressive soulful outing on one of the CD's best tracks 'Holding On'.
The 11 track 'Bad ForYou Baby' gives full reign to his guitar playing excellence but with a hint that he is searching for new avenues in which to apply his craft. Unlike most 50 something guitarists Gary hasn't compromised his style one little bit, being the same fireball - full of bluster and vitality and with an essential avalanche of licks - that marked him out as special talent when he was barely 15.
Aside from the potent mix of hard rocking r&b, shuffles, and a handful of slow blues there's also one of Gary's best ever vocal performances in the company of Cassie Taylor on the very soulful 'Holding On'. The song is most noticeable for its measured restraint and strong melody line. And while Gary goes on to explore several different shades of the blues it's still his stellar guitar playing that makes him special.
Put simply, he does his talking through his playing and this is especially so on his vibrant lead on the title track and some crunching solos on Muddy Waters' 'Walkin Thru the Park'. But there's a welcome variation to his attack on a trio of supremely crafted laid back efforts.
On Al Cooper's 'I Love You More Than You'll Ever Know' his guitar dominates the stripped down arrangement cutting across Vic Martin's linear Hammond lines with alacrity. The guitar replaces the original version's big horn arrangement and his big toned introduction references Sonny Rhodes's 'Sleepwalk' before building to a searing climax.
Gary is equally impressive on another big toned and uncluttered slow blues 'Did You Ever Feel Lonely?' and the closing Peter Green style 'Trouble Ain't Far Behind'. His use of different tone colourations, stop time tensions and deft use of volume control is the work of a guitar master. He adds some rollicking slide on the Johnny Winter arrangement of JB Lenoir's 'Mojo Boogie' but doesn't quite have the voice to improve on Johnny's caustic version. Gary adds some basic harp on the Yardbirds sounding 'Preacher Man Blues', but as ever his guitar playing remains his calling card and the quite beautiful and meandering smokin' blues that closes the album resolves all that has gone before.
Together with a rock solid rhythm section consisting of Pete Rees on bass, Sam Kelly on drums and Vic Martin's telling organ embellishments, Gary continues to successfully explore his blues-rock roots. And while 'Bad ForYou Baby' does successfully break new ground, it is still the trademark Gary Moore core guitar brilliance that will potentially extend the album's appeal to a wider rock audience.
****
Review by Pete Feenstra
---
| | |
| --- | --- |
| | Print this page in printer-friendly format |
| | Tell a friend about this page |