Only The Modfather is missing...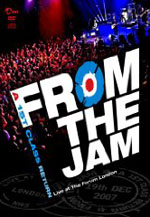 The Jam's return has been well publicised, and for good reason, as The Jam produced some cracking Mod and pop/rock music between 1977 and 1982, with some chart success to match.
Without Paul Weller's involvement (his loss), bassist Bruce Foxton and drummer Rick Buckler went out as 'From The Jam' with much acclaim.
Here is proof that there was a lot more to The Jam than Paul Weller. Yes he was a great songwriter, but Foxton could write too; one of the band's better known songs, a hit, themetune to 'Mock The Week', and very welcome here, is "News Of The World", a Foxton number.
Anyway, this show at the London forum was sold out with fans young and old here to see and hear some great music. Joining Foxton and Buckler up front is guitarist/vocalist Russell Hastings, who not only looks the part but gives a very true to form and passionate performance. The band are also joined, in the wings, by multi instrumentalist / vocalist Dave Moore, who has been working with the band for a few years now. In the wings he may be but he bolsters the sound and backing vocals, and adds some neat and deft guitar solos too; a mean player.
From The Jam kick off the 25 track set with "All Mod Cons" and "To Be Someone", and it's not long before there's a mosh pit going. The cover of The Who's "So Sad About Us" goes down well. As mentioned, "News Of The World" is clearly a crowd favourite. Not so well known tracks are enjoyed, like "Little Boy Soldiers", "Ghosts" and "Private Hell". "That's Entertainment" is given the acoustic treatment; further hits "'A' Bomb In Wardour Street", "The Eton Rifles" and "Going Underground" are all there, and there is an encore of "Down In The Tube Station At Midnight", "The Gift" and "Town Called Malice".
A good concert well documented. The second disc features a video history of the band and then interviews with all four band members. Something for the collectors and fans there.
Even without Weller, this is a good intro the band live, their hits and their history, and it comes well packaged too.
****
Review by Joe Geesin