FOREIGNER No End In Sight: The Very Best Of
Rhino (2008)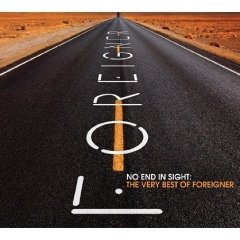 With some artists, not exactly active with new material, all that is needed is a gentle updating for posterity. Call it heritage rock, but fortunately some bands of that ilk are still knocking out the new stuff and sounding all the better for it (q.v Whitesnake, Def Leppard). Foreigner don't appear to be. Except for the one "new" track 'Too Late" - which sounds like a blatant rewrite of "Cold As Ice" - they seem happy to tread water.
This latest piece of blatant recycling also contains a - gasp - previously unreleased live track 'Say You Will'. The compilation highlights that Foreigner peaked with Lou Gramm on vocals and although beset by ill-health in recent years he's apparently recording a new album.
Whilst we await that album with some hope and anticipation, "No End In Sight" (of milking the cash cow?) does not offer much more than 2002's 'Definitive Collection" or indeed the earlier 'The Very Best and Beyond'. Shameless recycling.
***
Review by David Randall
---
| | |
| --- | --- |
| | Print this page in printer-friendly format |
| | Tell a friend about this page |
***** Out of this world | **** Pretty damn fine |
*** OK, approach with caution unless you are a fan |
** Instant bargain bin fodder | * Ugly. Just ugly
get ready to rock is a division of hotdigitsnewmedia group