FINAL AXE The Axe Of Apostles (2008)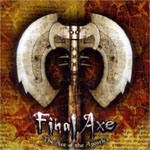 Remember Final Axe from the late 80's? Nah, I don't either...yet....
I am in Metal heaven right now!!!! Judas Priest and Iron Maiden - watch out! We have a new contender for stadium anthems!
Well, Robert Sweet ('Stryper'/'The Seventh Power' drummer) recently stated that his drum work on Seventh Powers' recent album was his best to date. But, I think he's wrong. The drumming on this album is clean, crisp and without any pondering of whether a drum machine had also been used. The precision guitar proves masters of melody. God knows how Bill Menchen will be able to do the entire guitar and keyboard work when on stage though.
Keith Miles on vocals gives a James Hetfield and Bruce Dickinson feel, giving it that "never out fashion" listen. However, these tracks were written in 1990, so it just shows that true 'Metal' never dies.
I am actually very impressed. The tracks "Hanging by a Thread" and "Dealing with Death" compelled me to throw my arms in the air and punch out like a maniac, can I please see these guys live; it would be sooooooo meaty and immense. I can definitely portray a massive fan base following for these guys, whether they are religious or not.
Only 'Dr Pepper' and marinated 'Steak Tacos' were consumed whilst recording this album. Well good because we dont need anymore drunk ramblings from metal generics anymore and I hope this band get the recognition they deserve for the obvious hard work on this album.
From my soul, I give this album a mighty 5 out of 5 and I think it will be in my CD player for a considerable amount of time! Stay absolutely METAL!!
***½
Review by Fluffmeister
---
| | |
| --- | --- |
| | Print this page in printer-friendly format |
| | Tell a friend about this page |