ERROR HEAD Modern Hippie Lion Music (2008)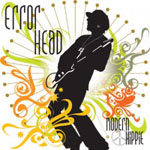 Error Head, the band under the gifted stewardship of leading session man Marcus Deml present this new album "Modern Hippie" with the promise of "a modern sound that combines influences such as Rock, Ambient, World music with strong hooks and grooves" and a sound that encompasses "a musical spirit of the late 60s and early 70s".
I was somewhat surprised then when early song "Connected", a fusion of melodic pop/rock and funk reminded of none other than late 80s 'supergroup' Mr. Big, but if you think about it much of Mr. Big's technically adept and polish attack was underpinned by a love of early 70's music. The similarities aren't limited to this song either although the real treats to be found in this album bear comparison to more globally successful outfits.
If you're waiting impatiently for David Gilmour to strap on a guitar and deliver that trademark sound once more then you could do worse that listen to the sumptuous, atmospheric, but annoyingly short (1.32) piece cunningly entitled "Dave" that leads into "Temporary Impression".
There are a couple of other clearly influenced moments too elsewhere in the album as the ambient, Floydian sound-scapes dominate the speakers, whilst another artist that sprung to mind whilst enjoying later track "Follow Your Dream" was Mike Oldfield and specifically his "Songs Of Distant Earth" album.
Error Head provide variety too in the shape of dance-hall finale "Tata" and also apparent Indian influences with the thumping "Bhangra Baby". A couple of songs that don't necessarily hit the heights of the other stuff but show off some creativity and diversity in a band certainly not afraid to be different and change their sound even within the space of an album.
It must be said though that the varied sounds and styles they do explore across just over 40 minutes are, in my opinion, well worth experiencing.
***½
Review by Bill Leslie
---
| | |
| --- | --- |
| | Print this page in printer-friendly format |
| | Tell a friend about this page |