ELVIS PRESLEY Christmas Duets Sony/BMG (2008)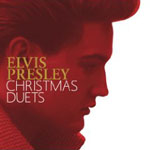 Elvis lives! There's a rumour that's been doing the rounds for the last 30 odd years that Elvis is dead. Well, here's proof the King lives, long live the King.
Resurrected, alive and well and dueting with today's pick of the crop of Nashville's premier songstresses - Martina McBride, Carrie Underwood, LeAnn Rimes, Gretchen Wilson and many more.
Using the most advanced and sophisticated technology available, Elvis's vocals from these 1971 Yuletide offerings have been carefully isolated from the original masters and dropped into new recordings, allowing contemporary stars to mix it with the main man.
On one hand, you can't help but be impressed by the studio trickery - it really does sound like Elvis is strutting his stuff with these Country Queens.
And if you don't believe me, listen, for example, to Santa Claus is back in Town with Wyonna Judd - one of the more up tempo numbers, that works really well. On the other, neither the original sessions, nor these are representative of the King at the top of his game. Christmas records are, by their very nature, mainly of the novelty variety. And they're almost certainly not something you're going to want to listen to on 364 days each year.
But served as a limited edition CD, and beautifully presented in a die-cut soft pack, it's going to be too much for many Elvis fans to resist.
***
Review by Pete Whalley
---
| | |
| --- | --- |
| | Print this page in printer-friendly format |
| | Tell a friend about this page |