ELVIS PRESLEY The Complete '68 Comeback Special Sony/BMG (2008)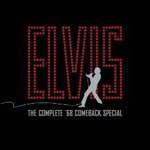 It was a pivotal moment in Elvis' career: a one-off TV special that would change his life forever, and take him back to what he loved doing the most.
It had been 7 years since Elvis had performed live in front of an audience but in June 1968 he returned to his roots and showed the world why he, quite simply, was 'the king of rock n roll'.
Elvis '68 Comeback Special was originally aired on December 3 1968 on the NBC TV network. A soundtrack album was released simply as NBC-TV special but over the years the album has been re-released along with the VHS and DVD versions of the show.
It is 40 years since Elvis wore that famous black leather suit and sang some of his greatest hits from 'Heartbreak Hotel' and 'Jailhouse Rock' to 'Tiger Man' and 'If I Can Dream'.
With every anniversary comes a celebration, and now another re-release, this time bringing together the complete recording sessions for the occasion.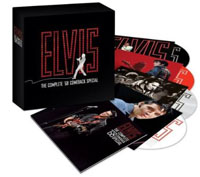 Disc 1 is the original album plus bonus cuts, Disc 2 is the first 'sit-down' show and the first 'stand-up' show, Disc 3 is the second sit-down show and the second stand-up show and Disc 4 is the first and second rehearsals.
Although this material is already available elsewhere, and also on DVD, it would be well placed in any Elvis fan's collection and is nicely packaged with all CDs in separate collectible cardboard sleeves.
But for those who have never heard this gig or maybe even Elvis, it's a great place to start. You'll hear some of the greatest vocal performances of all time but you'll get a real feel for Elvis' personality and an insight to why he loved doing what he did. And the up-close-and-personal approach is a precursor of the MTV 'Unplugged' format.
From rhythm and blues to country and western, and even gospel, this show covers all bases and offers something for everyone.
****
Review by Paul Helm
---
| | |
| --- | --- |
| | Print this page in printer-friendly format |
| | Tell a friend about this page |