Just witnessed your best live gig?..send us a review!
ELEANOR McEVOY
Love Must Be Tough tour May 2008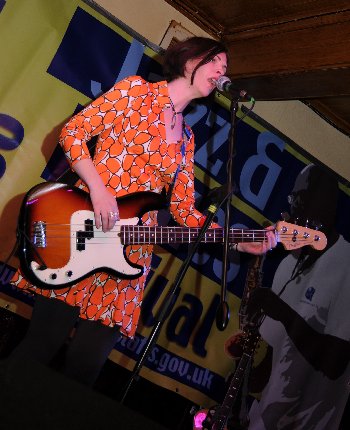 Photo: © 2008 Newcastle-under-Lyme Borough Council
Three dates, three very different gigs. Which just goes to show what a difference a venue can make.

First up, the opening date of the tour at The Old Brown Jug, Newcastle under Lyme - a spit and sawdust CAMRA pub that operates a (paying) lock-in system for gigs. A great range of beers, a great sound system and friendly staff, but little by way of creature comforts - no carpets and as for seating - a stool or hard backed chair (if you were lucky).

Eleanor was literally hemmed in by her audience and gave a performance of real passion and verve. To be blunt, it was ballsy, and reminded me (strangely) of the first time I saw David Bowie pedalling Ziggy Stardust at a sweaty Liverpool club back in 1972.
The set had the same sort of vibrancy and 'edge' that's hard to put your finger on, and Eleanor's vocals were in some of the finest fettle of her career.

It was intoxicating set (although maybe that was the beer), most noteworthy being a cover of Barry McGuire's Eve Of Destruction (updated with a vitriolic condemnation of the current state of the world), a wonderful new song What's Her Name?, the bodhran accompanied If You Want Me To Stay, and the frequent set closer Dylan's Be My Baby Tonight.

But it was gig that didn't satiate, it just left you wanting more. Which was lucky because 4 days later the tour arrived at The Rock, Maltby - a small but perfectly formed purpose built concert hall close to Roche Abbey where soft furnishings were very much the order of the day. A venue where the feral Eleanor McEvoy put away her claws and purred to a rapt audience.

In contrast to The Old Brown Jug, there was a raised stage, curtains, cushions and tablecloths, and you could hear a pin drop. While the set was by and large unchanged it was, as a consequence, toned down and refined, focusing on subtleties, panache, and audience participation exemplified by a poignant version of Only A Woman's Heart and a exquisite encore of Joni Mitchell's Carrie delivered without amplification from the heart of the audience. Magical minutes.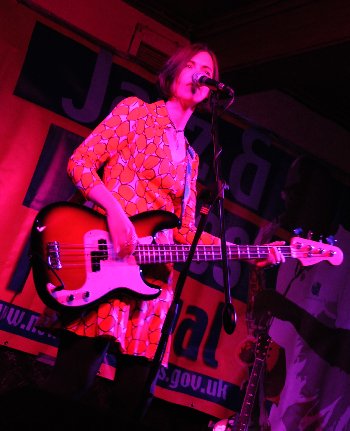 Photo: © 2008 Newcastle-under-Lyme Borough Council
So on to Alexander's Jazz Club, Chester, which was a 'halfway house' between the two previous venues - a working jazz club, but with the refinements you would expect of a cathedral city. And Eleanor served up a veritable smorgasbord of old, new, borrowed and blues, which after a relatively restrained first half, saw the audience indulge in some hearty involvement on I Knew The Bride (When She Used To Rock And Roll), When You (Smile), Be My Baby Tonight and Only A Woman's Heart (complete with a Spanish chorus).

It was yet another first rate set, confirming that Ms McEvoy remains on top of her game at present. The highlights were many, but for me at least were What's Her Name played on bass, Eve Of Destruction, Ave Maria, Be My Baby Tonight and a quite stunning second encore of the little aired Stray Thoughts from her debut album.

Truthfully, singer-songwriters and solo performers don't come any better than this.
****
Review by Pete Whalley

---
| | |
| --- | --- |
| | Print this page in printer-friendly format |
| | Tell a friend about this page |