EDGAR WINTER Rebel Road Evangeline Gelm 4201 (2008)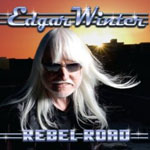 It must be tough being Edgar Winter. For the younger brother of hell raiser Johnny Winter has led a blameless life which has seen him score disco hits such as 'Frankenstein', enjoy rock hits like 'Freeway Ride' and has seen his early 70's bluesy gospel song 'Dying to Live' sampled in a Hip Hop context and adapted for the big screen. He is also a hard working multi instrumentalist as adept on drums and keyboards as he is on saxophone, and on top of that he's got a hell of a voice. And still he lives in the shadow of his guitar playing brother who puts in an appearance on his new album.
Put simply, when they come to write the big book of rock & roll it will be guitarists who will always hold central stage. Back in 1999 Edgar cut 'Winter Blues' his best album for years and the new 'Rebel Road' CD runs it close. In the interim nine years Edgar popped up with the Clinton's at the Millennium celebrations and has more recently toured with Ringo Starr's home for aged rockers - see the album liner notes and check out Edgar's 'Peace and Love' ode to his Beatle drumming hero.
Above all the new album shows Edgar still has a great voice and he has been smart enough to surround himself with a hard core of creative talents based round co producer/song writer vocalist Curt Cuomo and fellow song writer and guitarist James Zora Baker. And while 'Rebel Road' isn't quite the 'outsiders' concept album that Edgar himself alludes to, it's certainly a classy slice of rocking blues tempered by the occasional catchy AOR chorus and delicate ballad.
The title track sets the standard and is a classy biker anthem with a big punchy chorus fuelled by some telling lead guitar work by guest guitarist Slash. Edgar also rocks out with the catchy chorus of 'Eye On You' and toughens things up impressively on 'I'd Do It Again' which is a Bon Jovi style rocker on which drummer Gary Novak provides the rock solid back beat.
Brother Johnny takes two solos on the album's original title 'Rockin The Blues'. On the first solo we get the laid back version of Johnny but by the time of the finale he's nearly back to his searing best, no mean achievement for a man who had endured serious health problems of late. Edgar brings the spotlight closer to home on the autobiographical blues outing 'Texas Tornado' and shows his appreciation for Ringo on the altogether more laid back ballad 'Peace and Love' on which he musically references the Fab 4.
Ploughing through the four and half pages of self penned line notes it's obvious that unlike many of his contemporaries Edgar Winter is a proud man for whom his music carries his message of hope and optimism. Aside from brother Johnny, country star Clint Black impresses with some surprisingly bluesy harp alongside James Zota Baker on slide and Doug Rapperport on lead guitar and on the jocular hook of 'The Power of Positive Drinking'.
'Rebel Road' might be a concept closer to say the Willy Nelson generation than today's rockers but that shouldn't detract from a classy rock blues album that has enough frisson to holds its own an any FM rock station.
****
Review by Pete Feenstra
---
| | |
| --- | --- |
| | Print this page in printer-friendly format |
| | Tell a friend about this page |
***** Out of this world | **** Pretty damn fine |
*** OK, approach with caution unless you are a fan |
** Instant bargain bin fodder | * Ugly. Just ugly
get ready to rock is a division of hotdigitsnewmedia group