DREAM THEATER Greatest Hit (And 21 Other Pretty Cool Songs) Rhino (2008)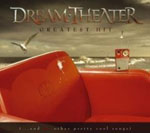 Dream Theater's old label Rhino/Atlantic have gathered together a two disc 'best of' (the hit referred to in the album's title is 'Pull Me Under') and like any compilation will have fans of the band bemoaning the fact that their own personal favorate missing (in my case this is 'Surrounded'). But I guess the idea here is to grab some new fans for the band and if only some of the tunes on the second disc, the lighter side, could get serious airplay they would win over many new converts I am sure.
For me it is the bands more mellow and reflective pieces that attract me to their music, rather than the intricate pieces and numerous time changes found on the dark side disc.
Songs like 'Through Her Eyes' and 'The Spirit Carries On' are simply jaw dropping, with some wonderful vocals from James La Brie coupled with delicate yet never in your face instrumentation. Play this on a mainstream radio station and it would win fans I am sure. There is the edited version of 'Solitary Shell', again the listener can only marvel at the vocals and music contained within the song.
The dark side disc includes a couple of 2007 remixes carried out by Kevin Shirley to give the music a more modern feel production wise and it certainly works on 'Pull Me Under' and 'Take The Time'.
Obviously a band like Dream Theater like to spread their wings musically and as such three songs on this disc appear in edited form. Nothing really to pull in existing fans bar the remixes and a alternate album version of 'Through Her Eyes' but for anyone new to the band this is a perfect introduction to a very talented and accomplished band.
****
Review by Jason Ritchie
---
| | |
| --- | --- |
| | Print this page in printer-friendly format |
| | Tell a friend about this page |
***** Out of this world | **** Pretty damn fine |
*** OK, approach with caution unless you are a fan |
** Instant bargain bin fodder | * Ugly. Just ugly