DOKKEN Lightning Strikes Again Frontiers (2008)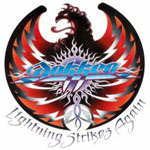 Dokken's latest album - their first since 2004's 'Hell To Pay - suffers from a similar fate that has befall many bands of this ilk in recent years. Basically, the production is not entirely up to scratch and there are too many mid-paced songs. A band like Dokken really need to make a startlingly album (i.e. another 'Tooth And Nail' or 'Back For The Attack') if they are to be heard loudly in the cut throat world of hard melodic rock. There's just too much competition out there.
The production places a large emphasis on lead riffs rather than bass and drums and for the most part guitarist Jon Levin delivers the goods even if some of his licks are a little too pedestrian. Don Dokken's voice sounds a tad strained especially on ballads like 'I Remember' (which is a fairly bland song anyway) and mid-paced rockers like 'It Means.'
The more tasty hard rockers are the thumping 'Disease,' the fiery 'Oasis' and the stomping 'Judgement Day.' 'Release Me' is a good power ballad with a neat central guitar solo. The album finishes with the rapid 'This Fire,' which has a snappy melody and cool chorus.
Dokken fans will be happy that they have released a new studio album, but has it been worth the four year wait? Hmmm...that is debatable.
It's not a bad album by any means; it's just not as hard hitting as memorable as it should be. I'm thinking some of this material will work better on stage where the band can really turn up the amps and play these songs much faster.
***
Review by Neil Daniels
---
| | |
| --- | --- |
| | Print this page in printer-friendly format |
| | Tell a friend about this page |
***** Out of this world | **** Pretty damn fine |
*** OK, approach with caution unless you are a fan |
** Instant bargain bin fodder | * Ugly. Just ugly