DIRECTION Est Unicorn Digital (2008)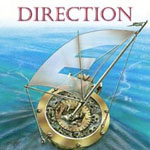 Fourth album from this Canadian French progressive rock outfit, who immediately sound tight, polished and taking a lot of 70s influences with a modern sound.
Opening track 'Memoire Privee' opens with some piano, a nod at Alan Parsons Project/Mike Oldfield, before the polished guitar comes in.
From the off it is clear that the two main influences are Rush in the guitar and melody, and Yes, esp with the keyboards. The arrangements on 'La Fuite' are similar, with well layered harmonics and decent vocals.
The band are a three piece, so one must assume overdubs and plenty of technical wizardry, but you wouldn't expect any less on a modern prog album.
'Capsule' is more 90s rock/pop/indie with prog overtones. The prog with plenty of arpeggio interplay returns for 'Touriste Urbain' and a nod at Genesis too.
The press release also mentions influences of Pink Floyd, Styx and Led Zeppelin, which are there but take a back seat to the Yes/Rush/Genesis. I'd say there's a touch of King Crimson too.
Of the eight tracks, the epic is the 11 minute 'Soldat', with a long opening segment led by marching band drums.
A good prog album, which purists and modernists should both appreciate.
***½
Review by Joe Geesin
www.joegeesin.com
---
| | |
| --- | --- |
| | Print this page in printer-friendly format |
| | Tell a friend about this page |