DEAD LETTER OFFICE Complications (2008)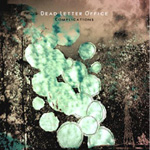 The accompanying press release to this debut album by Dead Letter Office includes the phrase 'epic, sonic majesty', and on the evidence of this wonderfully creative effort I'm not about to argue any differently.
From the opening phased intro of 'Follow Me Down' and through a complex jigsaw of sonic delight Dead Letter Office create their own unique aural sculpture. They open with a languid Pink Floyd style groove before slipping into a Grungy contemporary feel and a subsequent tension resolution via a bombastic piano line over a repeated wall of noise.
The opening laid back groove is repeated on the delightful slide guitar, harp and organ melange of 'Poles Apart', which Radiohead fans will quickly take to their heart. And much later the band offer a foil for what has gone before on the gentle but very effective acoustic and keyboard wash of 'Scarlett' - complete with electronic generated percussion and white noise - that carries the song to a sudden gentle ending.
Dead Letter Office is a band who clearly don't wish to overstay their welcome for too long, pulling and pushing their way through different musical and intellectual hoops. Every aspect of the album appears to be part of a greater whole with a mix of interlinked emotions, themes, repeated tempos and instrumental passages contributing to an album that is not nearly as impenetrable as the title 'Complications' suggests.
Dead Letter Office offer compositional abilities that transcend ephemeral labels and as a result 'Complications' traverses many styles including rock, art rock, new wave, electronica and post psychedelia. On 'Smokescreen' for example, they utilise a very 80's sounding backdrop while vocalist/lyricist Benjamin Hiorns drags the number into a number of stop-start sections before exploring a soaring vocal line over an aggressive and very effective drum pattern.
There are obvious influences such as The Pixies in terms of the polar opposites of melodic passages and their counterpoint to be found in several grungy style avalanches of sound. Somewhere in between, Dead Letter Office keep returning to the same laid back groove as on 'The Autumn Years' and the poppy minimalism of 'Lust' But even with the latter just when you think the number has run its course Benjamin Hiorns takes the number up a notch with an impassioned vocal line which he repeats as an effective coda.
'Complications' feels very organic, thus the repeated heavy grunge breaks of the CD's epicentre, 'Bedsores', comes as less of a surprise, being in effect a return to the dynamic wall of sound used on previous tracks, while the big guitar/drum break and high register processed voice wouldn't be out of place in a prog rock project.
Clearly, Dead Letter Office is a band for whom the concepts of labels and stylistic constraint hold no truck. There's real passion here, copious amounts of energy, real creative drive and some cleverly thought out arrangements that find their expression in a full range of dynamics. The closing proggy epic 'Prisoner' is a suitable climactic finale to a fine album that should impress rock fans of all denominations.
****
Review by Pete Feenstra

---
| | |
| --- | --- |
| | Print this page in printer-friendly format |
| | Tell a friend about this page |