DAWN LANDES Dawn's Music (2008)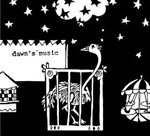 In a word, 'quirky'.
Sometimes member of Hem (contributing harmony vocals and glockenspiel), but more regularly found at her day job of studio recording engineer, Dawn kicked off her own recording career back in 2002 with Dawn's Music which was self released but which now gets a UK release in a nice gatefold digi pack accompanied by the 7 track Straight Lines which according to the sleeve was previously released in 2006. Certainly 5 of the tracks featured on Dawn's Two, Three, Four 2006 release.
Another word - 'different'. With her own unique slant on Americana, Dawn's is a stripped back acoustic sound - basic in the same way as The White Stripes, but at the same time nothing like The White Stripes. The recording is uncluttered - basic percussion, basic instrumentation and Dawn's half spoken / half sung vocals (vague hints of Suzanne Vega) - the sounds captured exactly as she heard them in her head. The result, an album has an almost 'demo' feel about it.
The bonus cd may only run out at 19 minutes, but it has a much more coherent feel to it and includes the singles Straight Lines and Young Folks, two of Dawn's more commercial offerings - the latter in particular which, with it's bluegrass, Celtic and railroad chorus line has a strangely enchanting and captivating quality.
Listening to snippets of Dawn's latest album - Fireproof, on iTunes - which sounds an altogether more fully formed piece of work, suggests that Dawn's Music is very much 'work in progress'.
**½
Review by Pete Whalley
---
| | |
| --- | --- |
| | Print this page in printer-friendly format |
| | Tell a friend about this page |