DANI WILDE Heal My Blues RUF 1137 (2008)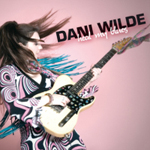 There are a couple of reasons for welcoming an album like this, not least the fact that Dani Wilde is a young female crossover artist in an aging macho world of rock blues. Secondly there is Ruf Records' continuing commitment to developing new artists, and in Dani Wilde they have the bare bones of a guitar playing vocalist who in the fullness of time will find her niche.
That said such good intentions don't always automatically transpose themselves into good product and on balance the pretentiously titled 'Heal My Blues' shows great potential but is hindered by a lack of project guidance (what we used to call a producer).
Both the pro's and cons are to be heard on the opening 'Bring Your Loving Home', where Dani strains her voice just a little too much. Ditto the production (or lack of it) which in an attempt to create bluster merely delivers clutter as the harp playing is simply to busy. And with an organ solo barely two and half minutes into the song followed by a functional guitar solo there's a feeling that everyone is straining a little too hard at the leash.
Even when the piece is resolved, Danni strains to sing over the top of the backing vocals. The title track is a stop-time mid-tempo rocker complete with Danni's youthful scream but on the following 'Come Undone' she again struggles to find a vocal equilibrium on a band dominated outing.
In fact this album features the raw ingredients of a tub thumping rock blues band but what's missing is a latter day Mike Vernon, just to hold back the enthusiasm and work a little more on the vocals. There a better performance all round on the humorously titled slow blues 'I Want You More Than I Hate Myself' on which Dani's delivers a more muscular vocal performance wringing every last drop of meaning and feel from her lyrics over a mercifully laid back arrangement. She further impresses with a fair stab at Norman Whitfield's 'I'm Going', showing that there's nothing here that a vocal coach can't cure.
On 'Testify' there's a call and response routine that is as laid back as her vocal performance is over the top, but just when you think its all a bit one dimensional she pops up with a lovely guitar and harp duet on John Lee Hooker's 'I'm in the Mood'.
At best this album is inconsistent, and at worst it sounds like it was recorded in a hurry, but taking all those reservations on board, Dani Wilde is a crossover artist with big potential and 'Heal My Blues' is a promising if at times flawed debut.
***
Review by Pete Feenstra
---
| | |
| --- | --- |
| | Print this page in printer-friendly format |
| | Tell a friend about this page |