Just witnessed your best live gig?..send us a review!
CAMBRIDGE ROCK FESTIVAL
Sunday 20 July 2008

An unexpected closure of the A1 meant arriving late and unfortunately missing opening act, Taildragger. A shame, because I recall they were highly entertaining last year.

Next up are local band Bijoumiyo - a soul / funk / rock hybrid outfit whose live performance, according to main man Myles Sanko, is fed by the audience and ad-libbed from start to finish, with nothing scripted in advance. The result is bordering on freeform jazz at times, but expertly performed and enjoyable from start to finish.

The winners of the CRF's 2007 best new band accolade follow in the form of Touchstone and their brand of female fronted melodic rock. Kim Seviour certainly has the vocals to suit the style, which at times veers fully in a progressive direction. The keyboards of Rob Cottingham and guitar of Adam Hodgson meld together well, and they obviously have a good musical rapport going. A little more movement and interaction on stage wouldn't go amiss, but I'm sure that will develop over time.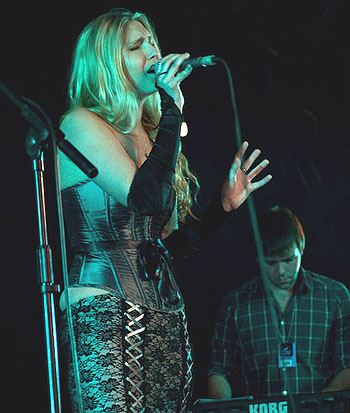 Photo by Ian Pollard
Iain Jennings and Olivia Sparnenn get their first outing of the day next, with Breathing Space - the band Iain left Mostly Autumn for. Latest album 'Coming Up For Air' is featured heavily, of course and the style is conceptual prog at its best, with multi-layered instrumental sections featuring double keyboards, guitar and sax. Over the top of this are Olivia's stunning and perfect vocals. My first time seeing the band, and I was not disappointed with the performance at all.

Chaos and hilarity now consumes Wood Green animal shelter, in the form of somersaults, spoons, flowers and a step ladder (amongst other things).
The ring leader of this assault on sanity is the irrepressible John Otway. Opening with his first hit, 'Really Fee' - which he stretches out as long as possible, the set also includes his second hit 'Bunsen Burner' and passable (though not quite true to the original) cover versions of 'House of the Rising Sun' and 'You Ain't Seen Nothing Yet'. Murray Torkildsen (guitar) and Barry Upton (guitar / keyboards) contribute greatly to the comedy aspect of the performance too. If you have not yet witnessed the truly awesome spectacle of a John Otway show, book one now!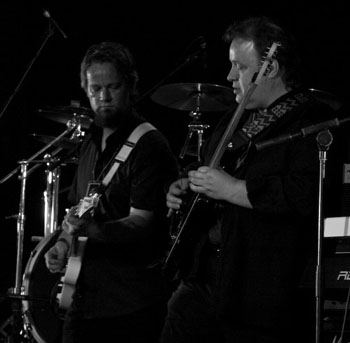 Photo by Ian Pollard
Aptly named, The Reasoning return proceedings to a level of normality (for a rock festival). The Welsh 6 piece outfit feature triple vocal talents in Rachel Cohen, Dylan Thompson & Gareth Owens, all taking lead vocals for different sections of songs as well as combining for sublime harmonies at other times. With the twin guitar sound of Dylan and Owain Roberts, the end result is a powerful melodic rock sound and lively stage presence, showcasing the writing talents of bass player Matthew Cohen. With a guest appearance by Steve Rothery, and a new album due out in October, this band are sure to move in the right direction.

Jim Leverton and Geoffrey Richardson from Caravan take to the stage next. Unfortunately the combination of acoustic guitar and violin made little impression on me, and aside from a rendition of 'Itchycoo Park' there was not much more I can remember from the set.

The band that most people present had been waiting for finally arrived. Mostly Autumn, temporarily reunited with original members Iain Jennings and Liam Davison, are performing their last show before lead singer Heather Findlay takes time off to sample the joys of motherhood.
Technical problems unfortunately limit the set to just seven songs, highlights of which are the ever-present 'Evergreen' and 'Heroes Never Die'.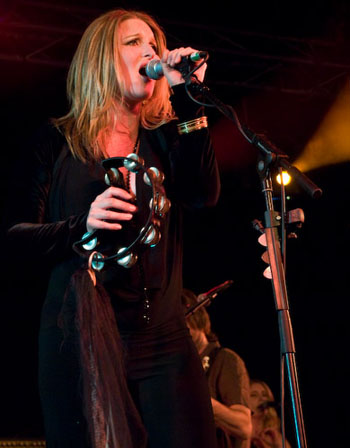 Photo by Ian Pollard
Latest additions to the band Henry Bourne (drums) and Ann-Marie Helder (flute, keyboards, vocals) are proving to be excellent choices and have gelled instantly into the MA setup (and into the hearts of the fan base it would seem). A few months break from live shows should give the whole band a well needed rest, and I look forward to them returning in December with renewed vigour.

Last act of the day for me (pending a 3 hour return journey) is Andy Fairweather Low and the Lowriders. With over 4 decades in the business, and a huge back catalogue to choose from, dating back to his Amen Corner days - there can be few more accomplished musicians on the planet. The list of names he has played with reads like a Who's Who of rock guitar, and the reason for this is clearly evident as soon as he starts playing. I'm not familiar with most of the songs played, but the guitar work is brilliant and an appreciative audience are kept enthralled throughout.

A good end to a long day, and hopefully another successful festival for the organisers.
Review and photographs by Ian Pollard
---
| | |
| --- | --- |
| | Print this page in printer-friendly format |
| | Tell a friend about this page |