Just witnessed your best live gig?..send us a review!
CLANNAD
Liverpool, Philharmonic Hall, 14 March 2008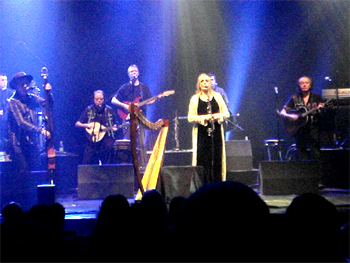 There's a feeling tonight that Clannad are a band very much of their time. Even the picture on the handbill advertising the tour shows the band as they were at the height of their success. New age pioneers, the emphasis now is on age. And the set-list was little changed from when I last saw them in the early 1990s.

With some rather cruel early reviews, the first tour for ten years wended its way to a finale in Liverpool and it has to be said any early rust had been eradicated. Opening with the haunting 'New Grange' the core of Moya and Ciaran Brennan and Noel and Padraig Duggan were bolstered by five competent and youthful multi-instrumentalists - who feature in Moya Brennan's touring band - and Ian Parker on keyboards (who featured on Clannad's later albums).

This was a predictable but welcome trawl through their back catalogue with the highlights inevitably the 'Last Of The Mohicans' theme 'I Will Find You', the Robin of Sherwood medley, 'Theme From Harry's Game' and 'In A Lifetime'. Whilst the latter didn't suffer from the lack of Bono, it did take two male vocalists to deliver his part.
At times, especially in the extended instrumental sections, the band showed their mettle with fluid and jazz inflected interplay. Clannad always had a slightly more ethereal approach than, say, Capercaillie who wrestled their Celtic fusion torch in the late 1990s, and Moya Brennan's vocals are still as distinctive as ever.

There's talk of a new album, and hopefully another decade won't lapse before we see Clannad on stage together again. But when they do, that handbill photo will need to be radically updated along with their setlist.

***½
Review by David Randall
| | |
| --- | --- |
| | Print this page in printer-friendly format |
| | Tell a friend about this page |