CAROLE KING Tapestry (The Legacy Edition) (2008)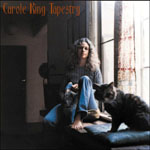 OK, you've had the vinyl, you've had the original CD, you've had the remastered version as part of the Ode Collection (where uniquely the album was included in its entirety and correct running order as part of an anthology collection), and if that wasn't enough, you may have purchased the 'enhanced' version with 'bonus' material of Out In The Cold (a previously unreleased out take) and a couple of live tracks.
So what on earth could possibly persuade you to shell out once again for quite possibly the finest singer songwriter album ever released? Well those clever chappies at Sony/BMG think they know - a whole CDs worth of bonus live material recorded in 1973 (in Boston and New York) and 1976 (in San Francisco). And cleverly they've used the live material to recreate the track listing and running order of the original album except for some reason (perhaps because she didn't play or it, or they couldn't find a tape) they didn't include Where You Lead. And being the kindly chaps that they are, they've left Out In The Cold tagged as a solitary bonus track to the original album on CD 1.
There's little point in me talking you through Tapestry. It was, and remains probably the finest ever album of its type - a collection of songs on which every ivory thumping note and impassioned vocal is still as alive and vibrant today as it was over 35 years ago when it was recorded.
And if you're a fan, you're likely to already to have the 1971 Carnegie Hall Concert cd which covers much of the same ground as the bonus cd (again Where You Lead is missing, as is Tapestry itself) but with the addition of some other tracks. So it's arguable whether you need the bonus cd included here. Sure, it's a good listen but in truth the best version of Tapestry is the original (remastered, naturally) but as Carole King intended it - twelve perfect tracks starting with I Feel The Earth Move and ending with (You Make Me Feel Like) A Natural Woman. Anything else is, quite frankly, superfluous.
****
Review by Pete Whalley
---
| | |
| --- | --- |
| | Print this page in printer-friendly format |
| | Tell a friend about this page |